Environmental Science: Processes & Impacts (ESPI) seeks your high-impact research for our upcoming Themed Issue on Cryosphere Chemistry.  
Guest Edited by Rose Cory and Kerri Pratt (University of Michigan) this issue will showcase studies on chemical processes in sea ice, snow, glaciers, ice sheets, permafrost soils as well as studies on waters draining permafrost soils. A wide range of contributions are encouraged, from atmospheric chemistry (e.g. atmospheric aerosols and trace gases) to biogeochemistry (e.g. chemical weathering or organic matter chemistry). Laboratory, field or modeling studies from diverse environments (e.g. glaciers, high latitude and high altitude systems) are welcomed.
Submissions for this Themed Issue are due by 29th February 2020 – if you would like to submit to this Themed Issue, please contact the Environmental Science: Processes & Impacts Editorial Office at espi-rsc@rsc.org to let us know.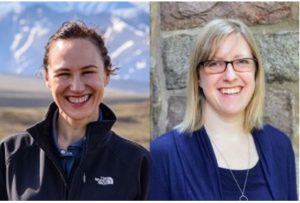 Guest Editors (Left to Right): Rose Cory (University of Michigan) and Kerri Pratt (University of Michigan)