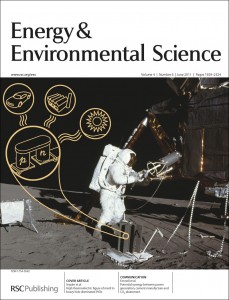 We would like to share with you a selection of high impact articles, published in Energy & Environmental Science covering a wide range of thermoelectrics research.
On behalf of Editor-in-Chief Nate Lewis (Caltech), we invite you to submit your best research to Energy & Environmental Science.
With an Impact Factor of 9.61 and ranked #1 in its field, Energy & Environmental Science is the ideal place to publish your research.
Sign up to receive our free table-of-contents e-alert at www.rsc.org/alerts and be among the first to read our newest articles.
Read this high-impact thermoelectrics research today:
Reviews
Perspectives on thermoelectrics: from fundamentals to device applications
M. Zebarjadi, K. Esfarjani, M. S. Dresselhaus, Z. F. Ren and G. Chen
DOI: 10.1039/C1EE02497C
Resonant levels in bulk thermoelectric semiconductors
Joseph P. Heremans, Bartlomiej Wiendlocha and Audrey M. Chamoire
DOI: 10.1039/C1EE02612G
Prospects for polymer-based thermoelectrics: state of the art and theoretical analysis
Theodore O. Poehler and Howard E. Katz
DOI: 10.1039/C2EE22124A
Original research
Low effective mass leading to high thermoelectric performance
Yanzhong Pei, Aaron D. LaLonde, Heng Wang and G. Jeffrey Snyder
DOI: 10.1039/C2EE21536E
High thermoelectric figure of merit in nanostructured p-type PbTe–MTe (M = Ca, Ba)
Kanishka Biswas, Jiaqing He, Guoyu Wang, Shih-Han Lo, Ctirad Uher, Vinayak P. Dravid and Mercouri G. Kanatzidis
DOI: 10.1039/C1EE02297K
Flexible carbon nanotube papers with improved thermoelectric properties
Weiyun Zhao, Shufen Fan, Ni Xiao, Dayong Liu, Yee Yan Tay, Cui Yu, Daohao Sim, Huey Hoon Hng, Qichun Zhang, Freddy Boey, Jan Ma, Xinbing Zhao, Hua Zhang and Qingyu Yan
DOI: 10.1039/C1EE01931G
Enhancement of thermoelectric figure-of-merit by resonant states of aluminium doping in lead selenide
Qinyong Zhang, Hui Wang, Weishu Liu, Hengzhi Wang, Bo Yu, Qian Zhang, Zhiting Tian, George Ni, Sangyeop Lee, Keivan Esfarjani, Gang Chen and Zhifeng Ren
DOI: 10.1039/C1EE02465E
High thermoelectric figure of merit zT>1 in Ba heavily doped BiCuSeO oxyselenides
Li-Dong Zhao, Jing Li, Jiehe Sui, Yanling Pei, Celine Barreteau, David Berardan, Nita Dragoe, Wei Cai and Jiaqing He
DOI: 10.1039/C2EE22622G
Combining alloy scattering of phonons and resonant electronic levels to reach a high thermoelectric figure of merit in PbTeSe and PbTeS alloys
Christopher M. Jaworski, Bartlomiej Wiendlocha, Vladimir Jovovic and Joseph P. Heremans
DOI: 10.1039/C1EE01895G
High thermoelectric figure of merit in heavy hole dominated PbTe
Yanzhong Pei, Aaron LaLonde, Shiho Iwanaga and G. Jeffrey Snyder
DOI: 10.1039/C0EE00456A
A novel high-performance photovoltaic–thermoelectric hybrid device
Ning Wang, Li Han, Hongcai He, Nam-Hee Park and Kunihito Koumoto
DOI: 10.1039/C1EE01646F
Sb2Te3 and Bi2Te3 based thermopower wave sources
Sumeet Walia, Rodney Weber, Sharath Sriram, Madhu Bhaskaran, Kay Latham, Serge Zhuiykov and Kourosh Kalantar-zadeh
DOI: 10.1039/C1EE01370J
Recrystallization induced in situ nanostructures in bulk bismuth antimony tellurides: a simple top down route and improved thermoelectric properties
Jun-Jie Shen, Tie-Jun Zhu, Xin-Bing Zhao, Sheng-Nan Zhang, Sheng-Hui Yang and Zhen-Zhong Yin
DOI: 10.1039/C0EE00012D
You can find even more great thermoelectric research in our Energy & Environmental Science thermoelectrics web collection.