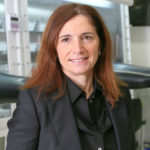 Welcome to Professor Marinella Mazzanti who joins us as Editorial Board member for Dalton Transactions. Professor Mazzanti is currently the Head and founder of the Group of Coordination Chemistry at EPFL (Ecole Polytechnique Fédérale de Lausanne) in Switzerland.
Her research interests include: Lanthanides and Actinides Coordination Chemistry; Lanthanides and Actinides Supramolecular Chemistry; Redox Reactivity of Low Valent f Elements; Gadolinium Based MRI Contrast Agents; Lanthanide Based Luminescent Architectures; Single Molecule Magnets; Small Molecule Activation.
Professor Mazzanti has also participated in more than 30 invited seminars at International conferences and Universities in Europe and the USA.
Below is a selection of articles Professor Mazzanti has published with us:
CS2 activation at uranium(III) siloxide ate complexes: the effect of a Lewis acidic site
Clément Camp, Oliver Cooper, Julie Andrez, Jacques Pécaut and Marinella Mazzanti
Dalton Trans., 2015, 44, 2650-2656
DOI: 10.1039/C4DT02585G, Paper
From themed collection Dalton Discussion 14: Advancing the chemistry of the f-elements
Crystal structure diversity in the bis[hydrotris(3,5-dimethylpyrazolyl)borate]iodouranium(III) complex: from neutral to cationic forms
Maria Augusta Antunes, Isabel C. Santos, Hélène Bolvin, Laura C. J. Pereira, Marinella Mazzanti, Joaquim Marçalo and Manuel Almeida
Dalton Trans., 2013, 42, 8861-8867
DOI: 10.1039/C3DT50753J, Paper
Optimizing the relaxivity of Gd(III) complexes appended to InP/ZnS quantum dots by linker tuning
Graeme J. Stasiuk, Sudarsan Tamang, Daniel Imbert, Christelle Gateau, Peter Reiss, Pascal Fries and Marinella Mazzanti
Dalton Trans., 2013, 42, 8197-8200
DOI: 10.1039/C3DT50774B, Communication