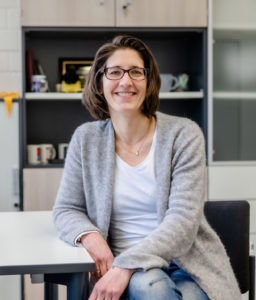 Photographer: @RUB, Marquard
Viktoria H. Gesner (Däschlein-Gessner) is Professor for Inorganic Chemistry at the Ruhr-University of Bochum (Germany). She obtained her PhD under the supervision of Prof. C. Strohmann at TU Dortmund in 2009 and was postdoc with Prof. T. D. Tilley at the University of California in Berkeley (USA). After a further postdoctoral stay with Prof. H. Braunschweig at the University of Würzburg she started her independent career and completed her Habilitation in 2015. Since 2016 she is Professor at the at the Ruhr-University of Bochum.
Viktoria's research interests lie in the field of organometallic chemistry and catalysis. She has worked on the development of carbanionic and ylidic ligands for the stabilization of reactive main group compounds, the synthesis of new reagents and the design of new catalysts. Her group's work has been published in more than 100 publications and recognized by series of awards and prices. Furthermore, she is mother of two children, loves running and good food and is a passionate soccer fan (Borussia Dortmund).
Read Viktoria's Emerging Investigator article, 'Synthesis of Sterically Encumbered Di- and Triarylamines by Palladium-Catalysed C-N Coupling Reactions at Mild Reaction Conditions', DOI: 10.1039/D1CY02352G and check out her video interview below to find out more about her work and advice for early-career researchers
You can keep up to date with Viktoria and her research on Twitter @ViktoriaGessner