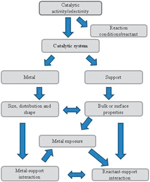 Heterogeneous and homogeneous catalysis are two very distinct classes of catalysts, while the former is commonly easier to recover and re-use the latter is often more selective. This review by Prati et al. (Universita degli Studi di Milano) covers the recent advances in catalysts on supports, in particular the support of metal nanoparticles and their catalytic properties.
The accessibility of the particle surface plays an important role in activity with a high surface area giving a higher reaction rate, however it has also been shown that incarceration of particles inside support cavities can be beneficial with respect to resisting leaching and coarsening.
For full details of this topical review and its findings you can download this Hot Perspective now as all articles in Catalysis Science & Technology are free to access for the duration of 2012.
Material science for the support design: a powerful challenge for catalysis
Alberto Villa, Marco Schiavoni and Laura Prati
Catal. Sci. Technol., 2012, Advance Article
DOI: 10.1039/C2CY00355D
Other interesting articles on nano-scale catalysis can also be found here.
To keep up to date with the latest news in Catalysis Science & Technology you can like us on facebook, follow us on twitter and sign up to the e-alert service.