Chem Soc Rev was delighted to sponsor a poster prize at the recent Supramolecular Chemistry Symposium at Southampton University.  Congratulations to the winner, Marc Little from the University of Liverpool!
Chem Soc Rev Editorial board Chair and Southampton Head of Chemistry, Phil Gale, presented Marc with his certificate.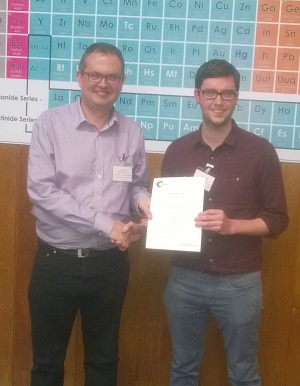 The Symposium, held on the 17th June, featured a great line-up of speakers including several RSC Prize and Award winners, with Matthew Fuchter, David Leigh and Andy Cooper all giving a lecture at the event. You can view the full programme and list of speakers online.
For more photos and information about the event, head to the symposium website.
Congratulations again to Marc on his Chem Soc Rev poster prize.