We are delighted to announce that the latest Chemical Society Reviews Impact Factor has risen to 33.383 – its highest ever, and showing a fantastic 9.7% increase from last year – according to the 2014 Journal Citation Reports®.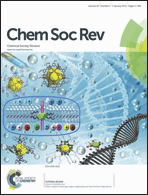 We sincerely thank you – our authors, referees, Associate Editors, and Editorial and Advisory Board members – for all your valuable contributions and continued support which have brought the journal to where it is now. With a truly international authorship publishing accessible and reader-friendly articles, Chem Soc Rev remains as the home of high impact reviews from across the chemical sciences.
You can read our most highly cited review articles listed below.
Tutorial reviews
Metal dichalcogenide nanosheets: preparation, properties and applications
Xiao Huang, Zhiyuan Zeng and Hua Zhang
Chem. Soc. Rev., 2013, 42, 1934-1946
DOI: 10.1039/C2CS35387C, Tutorial Review
Modifying enzyme activity and selectivity by immobilization
Rafael C. Rodrigues, Claudia Ortiz, Ángel Berenguer-Murcia, Rodrigo Torres and Roberto Fernández-Lafuente
Chem. Soc. Rev., 2013,42, 6290-6307
DOI: 10.1039/C2CS35231A, Tutorial Review
From themed collection Enzyme immobilisation
Review articles
Porphyrin-sensitized solar cells
Lu-Lin Li and Eric Wei-Guang Diau
Chem. Soc. Rev., 2013, 42, 291-304
DOI: 10.1039/C2CS35257E, Review Article
Inorganic nanostructures for photoelectrochemical and photocatalytic water splitting
Frank E. Osterloh
Chem. Soc. Rev., 2013, 42, 2294-2320
DOI: 10.1039/C2CS35266D, Review Article
Nano-graphene in biomedicine: theranostic applications
Kai Yang, Liangzhu Feng, Xiaoze Shi and Zhuang Liu
Chem. Soc. Rev., 2013,42, 530-547
DOI: 10.1039/C2CS35342C, Review Article
Enhancing solar cell efficiency: the search for luminescent materials as spectral converters
Xiaoyong Huang, Sanyang Han, Wei Huang and Xiaogang Liu
Chem. Soc. Rev., 2013,42, 173-201
DOI: 10.1039/C2CS35288E, Review Article
Read more Impact Factor highlights for the Royal Society of Chemistry's leading journals, including Chemical Science and Chemical Communications.
Find out how other RSC journals are ranked in the latest Impact Factor release
Chem Soc Rev uses a formal online submission system for review proposals, incorporated into our existing online system. Please upload your completed proposal form online, and read our Author Guidelines for details.
*The Impact Factor provides an indication of the average number of citations per paper. Produced annually, Impact Factors are calculated by dividing the number of citations in a year, by the number of citeable articles published in the preceding two years. Data based on 2014 Journal Citation Reports®, (Thomson Reuters, 2015).