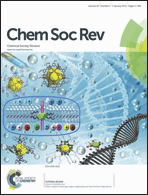 Have you seen the most downloaded Chemical Soc Rev articles from October–December 2014?
Nanostructured hydrotreating catalysts for electrochemical hydrogen evolution
Carlos G. Morales-Guio, Lucas-Alexandre Stern and Xile Hu  
DOI: 10.1039/C3CS60468C
Pre-nucleation clusters as solute precursors in crystallisation
Denis Gebauer, Matthias Kellermeier, Julian D. Gale, Lennart Bergström and Helmut Cölfen  
DOI: 10.1039/C3CS60451A
Zeolite-like metal–organic frameworks (ZMOFs): design, synthesis, and properties
Mohamed Eddaoudi, Dorina F. Sava, Jarrod F. Eubank, Karim Adil and Vincent Guillerm  
DOI: 10.1039/C4CS00230J
Heterogeneous catalysis for sustainable biodiesel production via esterification and transesterification
Adam F. Lee, James A. Bennett, Jinesh C. Manayil and Karen Wilson  
DOI: 10.1039/C4CS00189C
The chemistry of graphene oxide
Daniel R. Dreyer, Sungjin Park, Christopher W. Bielawski and Rodney S. Ruoff  
DOI: 10.1039/B917103G
Tuning the structure and function of metal–organic frameworks via linker design
Weigang Lu, Zhangwen Wei, Zhi-Yuan Gu, Tian-Fu Liu, Jinhee Park, Jihye Park, Jian Tian, Muwei Zhang, Qiang Zhang, Thomas Gentle III, Mathieu Bosch and Hong-Cai Zhou  
DOI: 10.1039/C4CS00003J
A review of electrode materials for electrochemical supercapacitors
Guoping Wang, Lei Zhang and Jiujun Zhang  
DOI: 10.1039/C1CS15060J
Heterogeneous photocatalyst materials for water splitting
Akihiko Kudo and Yugo Miseki  
DOI: 10.1039/B800489G
Selection of boron reagents for Suzuki–Miyaura coupling
Alastair J. J. Lennox and Guy C. Lloyd-Jones  
DOI: 10.1039/C3CS60197H
Cucurbiturils: from synthesis to high-affinity binding and catalysis
Khaleel I. Assaf and Werner M. Nau  
DOI: 10.1039/C4CS00273C
A review of mineral carbonation technologies to sequester CO2
A. Sanna, M. Uibu, G. Caramanna, R. Kuusik and M. M. Maroto-Valer  
DOI: 10.1039/C4CS00035H
Microfluidic lab-on-a-chip platforms: requirements, characteristics and applications
Daniel Mark, Stefan Haeberle, Günter Roth, Felix von Stetten and Roland Zengerle  
DOI: 10.1039/B820557B
Graphane and hydrogenated graphene
Martin Pumera and Colin Hong An Wong  
DOI: 10.1039/C3CS60132C
Single-molecule electronics: from chemical design to functional devices
Lanlan Sun, Yuri A. Diaz-Fernandez, Tina A. Gschneidtner, Fredrik Westerlund, Samuel Lara-Avila and Kasper Moth-Poulsen  
DOI: 10.1039/C4CS00143E
Monolithic cells for solar fuels
Jan Rongé, Tom Bosserez, David Martel, Carlo Nervi, Luca Boarino, Francis Taulelle, Gero Decher, Silvia Bordiga and Johan A. Martens  
DOI: 10.1039/C3CS60424A
---
Chem Soc Rev
is the home of high impact reviews from across the chemical sciences and publishes accessible, succinct and reader-friendly articles on topics of current interest.
If you are interested in writing a review, you can submit a review proposal form to Chem Soc Rev for the Editorial Board's consideration.
Stay up to date with Chem Soc Rev
Be among the first to hear about the newest articles being published – Sign-up to our journal news alert to receive information about most read articles, themed issues, journal news, as well as calls for papers and invitations.