We are delighted to announce that the Physical Chemistry Chemical Physics (PCCP) themed collection New Perspectives on Molecular Simulation of Chemistry and Physics in External Electric Fields is now online and free to access until mid-May 2023.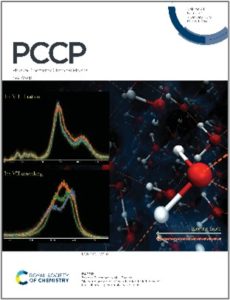 The timely topic of external electric fields in molecular simulation, with a focus on the emergent theme of handling chemical reactions is expected to stimulate discussion and offer insights into external field manipulation of chemical reactions, including experimental studies into microscopic fundamentals.
Guest Edited by Niall English, Maria Gracheva, Peter Kusalik and Sason Shaik, this collection aims to bring together the progress made in this fast-moving field over the past 10 years, to provide an invaluable resource to anyone working in this area.
Read the full issue online
It includes:
Editorial
New perspectives on molecular simulation of chemistry and physics in external electric fields
Peter G. Kusalik, Maria E. Gracheva, Sason Shaik and Niall J. English
Phys. Chem. Chem. Phys., 2022, 24, 28660-28661. DOI: 10.1039/D2CP90209E
Perspective
Electromagnetic bioeffects: a multiscale molecular simulation perspective
Benjamin B. Noble, Nevena Todorova and Irene Yarovsky
Phys. Chem. Chem. Phys., 2022, 24, 6327-6348. DOI: 10.1039/D1CP05510K
Paper
Electrostatic effects in N-heterocyclic carbene catalysis: revealing the nature of catalysed decarboxylation
Zhipeng Pei, Qinyu Qiao,b Cunxi Gong,b Donghui Wei and Michelle L. Coote
Phys. Chem. Chem. Phys., 2021, 23, 24627-24633. DOI: 10.1039/D1CP04444C
Paper
Can the local electric field be a descriptor of catalytic activity? A case study on chorismate mutase
Shakir Ali Siddiqui and Kshatresh Dutta Dubey
Phys. Chem. Chem. Phys., 2022, 24,1974-1981. DOI: 10.1039/D1CP03978D
Paper
Electric fields and potentials in condensed phases
Shawn M. Kathmann
Phys. Chem. Chem. Phys., 2021, 23, 23836-23849. DOI: 10.1039/D1CP03571A
We hope you enjoy reading the articles. Please get in touch if you have any questions about this themed collection or PCCP.