The 116th General Assembly of the German Bunsen Society for Physical Chemistry took place between 25-27 May 2017, at the Technische Universität Kaiserslautern in Germany.
Physical Chemistry Chemical Physics (PCCP) Executive Editor Anna Simpson was at the event and presented the winners of the Poster Award with their certificates during the Closing Ceremony on Saturday 27 May 2017. This year's winners were:
Michael Erkelenz
Universität Duisburg-Essen/D
"Synthesis and Characterization of Small Gold Nanorods for Cellular Uptake by Neutrophil Granulocytes"
Vasileios Balos
Max Planck Institute for Polymer Research, Mainz/D
"Hofmeister Effects in aqueous Oligopeptide solutions: The Termini matter for Guanidinium salts"
Jan Neumann
Universität Rostock/D
"A Molecular Dynamics Simulation Study of Like-Charged Hydrogen Bonding in Ionic Liquids"
Matthias Klein
TU Kaiserslautern/D
"Infrared spectroscopic investigations of N2 adsorbed to cold Rhodium Iron alloy cluster cations"
Corinna Stumm
Universität Erlangen-Nürnberg
"Electro-catalytic CO Oxidation on UHV- Prepared Pt/Co3O4(111) Model Catalysts Studied by Electrochemical Infrared Reflection Absorption Spectroscopy"
René Dallinger
Freie Universität Berlin/D
"Investigation of iron and silicon oxide formation in single levitated micro droplets by Raman and X-Ray fluorescence spectroscopy"
Ann-Kathrin Froin
TU Dortmund
"Entwicklung und Charakterisierung selbst-schwimmender Mikrokapseln mit biologischem Vorbild"
Ann-Katrin Baumann
Universität Kiel/D
"Sub-Monolayer NIR-ew-CRD Spectroscopy: Picosecond Versus Continuous Wave Laser Excitation"
Jessica Kräuter
Universität Oldenburg/D
"Adsorption of acetone on TiO2 rutile(110)"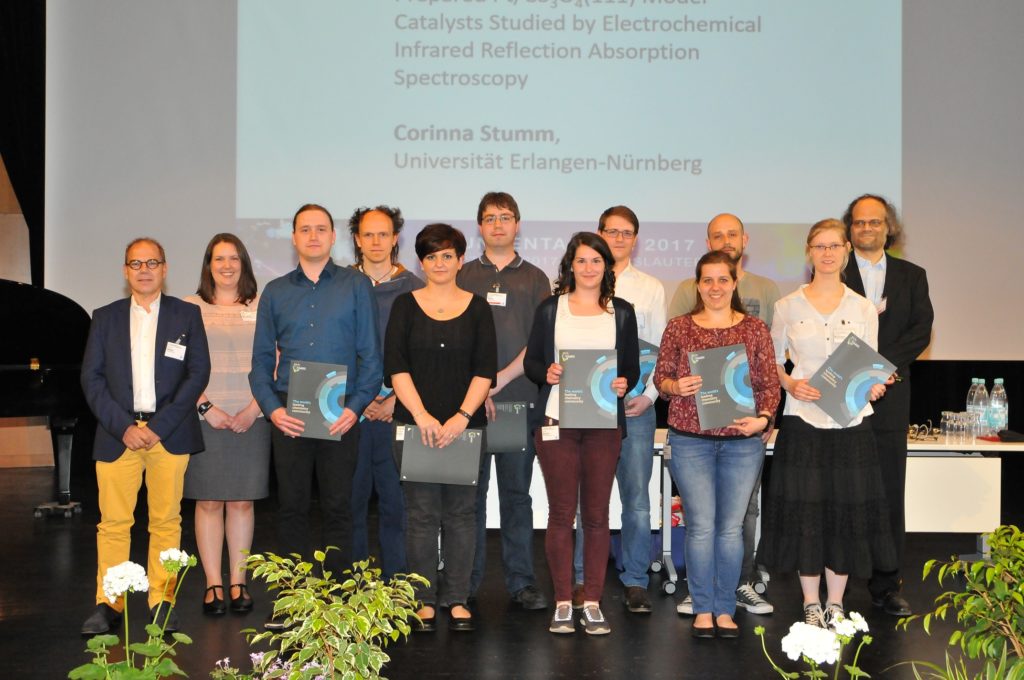 Back row, L-R: Anna Simpson, René Dallinger, Matthias Klein, Michael Erkelenz , Vasileios Balos, Markus Gerhards
Front row, L-R: Uwe Nickel, Jan Neumann, Ann-Kathrin Froin, Corinna Stumm, Jessica Kräuter, Ann-Katrin Baumann
Congratulations to each of the winners!