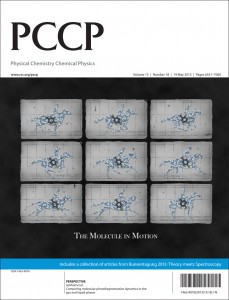 We are delighted to announce that the PCCP themed collection on Theory meets spectroscopy has now been published online – take a look today!
The themed collection was Guest Edited by Manfred Kappes and Wim Klopper.
The outside front cover features a perspective article on Comparing molecular photofragmentation dynamics in the gas and liquid phases by Stephanie J. Harris, Daniel Murdock, Yuyuan Zhang, Thomas A. A. Oliver, Michael P. Grubb, Andrew J. Orr-Ewing, Gregory M. Greetham, Ian P. Clark, Michael Towrie, Stephen E. Bradforth and Michael N. R. Ashfold.
Theory meets spectroscopy themed collection features a broad range of Papers and Communications and includes the following Perspective articles: