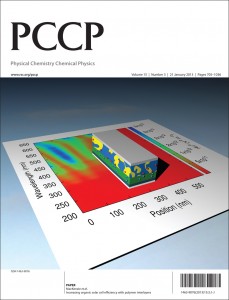 We are delighted to share with you the most read articles in Physical Chemistry Chemical Physics (PCCP) in 2012. From theoretical modelling to SERS to ionic liquids and much more besides, we're confident there is something for everyone – please do take a look!
Keep up to date with the latest issues of PCCP: sign up to receive our free table-of-contents e-alert.
With high quality international research across its broad scope, PCCP is the ideal place to publish your research.
We invite you to submit your research to PCCP today!
Top 25 most-read PCCP articles for 2012
Density functional theory for transition metals and transition metal chemistry
Christopher J. Cramer and Donald G. Truhlar
DOI: 10.1039/B907148B
Solar hydrogen production with semiconductor metal oxides: new directions in experiment and theory
Álvaro Valdés, Jeremie Brillet, Michael Grätzel, Hildur Gudmundsdóttir, Heine A. Hansen, Hannes Jónsson, Peter Klüpfel, Geert-Jan Kroes, Florian Le Formal, Isabela C. Man, Rafael S. Martins, Jens K. Nørskov, Jan Rossmeisl, Kevin Sivula, Aleksandra Vojvodic and Michael Zäch
DOI: 10.1039/C1CP23212F
Graphene-based electrochemical energy conversion and storage: fuel cells, supercapacitors and lithium ion batteries
Junbo Hou, Yuyan Shao, Michael W. Ellis, Robert B. Moore and Baolian Yi
DOI: 10.1039/C1CP21915D
Studying disorder in graphite-based systems by Raman spectroscopy
M. A. Pimenta, G. Dresselhaus, M. S. Dresselhaus, L. G. Cançado, A. Jorio and R. Saito
DOI: 10.1039/B613962K
Titania supported gold nanoparticles as photocatalyst
Ana Primo, Avelino Corma and Hermenegildo García
DOI: 10.1039/C0CP00917B
Carbon materials for supercapacitor application
Elzbieta Frackowiak
DOI: 10.1039/B618139M
Characterization of nanostructured hybrid and organic solar cells by impedance spectroscopy
Francisco Fabregat-Santiago, Germà Garcia-Belmonte, Iván Mora-Seró and Juan Bisquert
DOI: 10.1039/C0CP02249G
Layer-by-layer assembly as a versatile bottom-up nanofabrication technique for exploratory research and realistic application
Katsuhiko Ariga, Jonathan P. Hill and Qingmin Ji
DOI: 10.1039/B700410A
Cu2ZnSnS4 (CZTS) nanoparticle based nontoxic and earth-abundant hybrid pn-junction solar cells
Sudip K. Saha, Asim Guchhait and Amlan J. Pal
DOI: 10.1039/C2CP41062A
Excited state intramolecular proton transfer (ESIPT): from principal photophysics to the development of new chromophores and applications in fluorescent molecular probes and luminescent materials
Jianzhang Zhao, Shaomin Ji, Yinghui Chen, Huimin Guo and Pei Yang
DOI: 10.1039/C2CP23144A
Nanostructure-based WO3 photoanodes for photoelectrochemical water splitting
Xien Liu, Fengying Wang and Qing Wang
DOI: 10.1039/C2CP40976C
Colloidal metal nanoparticles as a component of designed catalyst
Chun-Jiang Jia and Ferdi Schüth
DOI: 10.1039/C0CP02680H
A thorough benchmark of density functional methods for general main group thermochemistry, kinetics, and noncovalent interactions
Lars Goerigk and Stefan Grimme
DOI: 10.1039/C0CP02984J
Facile preparation of nitrogen-doped graphene as a metal-free catalyst for oxygen reduction reaction
Ziyin Lin, Min-kyu Song, Yong Ding, Yan Liu, Meilin Liu and Ching-ping Wong
DOI: 10.1039/C2CP00032F
Air and water stable ionic liquids in physical chemistry
Frank Endres and Sherif Zein El Abedin
DOI: 10.1039/B600519P
The electrochemistry of CVD graphene: progress and prospects
Dale A. C. Brownson and Craig E. Banks
DOI: 10.1039/C2CP40225D
Activated graphene as a cathode material for Li-ion hybrid supercapacitors
Meryl D. Stoller, Shanthi Murali, Neil Quarles, Yanwu Zhu, Jeffrey R. Potts, Xianjun Zhu, Hyung-Wook Ha and Rodney S. Ruoff
DOI: 10.1039/C2CP00017B
Plasmonic photocatalysts: harvesting visible light with noble metal nanoparticles
Peng Wang, Baibiao Huang, Ying Dai and Myung-Hwan Whangbo
DOI: 10.1039/C2CP40823F
Long-range corrected hybrid density functionals with damped atom–atom dispersion corrections
Jeng-Da Chai and Martin Head-Gordon
DOI: 10.1039/B810189B
Graphene and carbon nanotube composite electrodes for supercapacitors with ultra-high energy density
Qian Cheng, Jie Tang, Jun Ma, Han Zhang, Norio Shinya and Lu-Chang Qin
DOI: 10.1039/C1CP21910C
Fullerene derivative acceptors for high performance polymer solar cells
Youjun He and Yongfang Li
DOI: 10.1039/C0CP01178A
Solid-state dye-sensitized solar cells based on spirofluorene (spiro-OMeTAD) and arylamines as hole transporting materials
Chih-Yu Hsu, Yung-Chung Chen, Ryan Yeh-Yung Lin, Kuo-Chuan Ho and Jiann T. Lin
DOI: 10.1039/C2CP41326D
Surface-Enhanced Raman Scattering (SERS) on transition metal and semiconductor nanostructures
Xiaotian Wang, Wensheng Shi, Guangwei She and Lixuan Mu
DOI: 10.1039/C2CP40080D
Graphene CVD growth on copper and nickel: role of hydrogen in kinetics and structure
Maria Losurdo, Maria Michela Giangregorio, Pio Capezzuto and Giovanni Bruno
DOI: 10.1039/C1CP22347J
High-energy 'composite' layered manganese-rich cathode materials via controlling Li2MnO3 phase activation for lithium-ion batteries
Haijun Yu, Hyunjeong Kim, Yarong Wang, Ping He, Daisuke Asakura, Yumiko Nakamura and Haoshen Zhou
DOI: 10.1039/C2CP40745K