Marta Figuerido reached her first ChemComm Milestone with this article: Electrocatalytic synthesis of organic carbonates. We spoke to Marta to find out about her experiences as a first-time independent author and why she chose to publish with ChemComm. Read our interview with Marta below.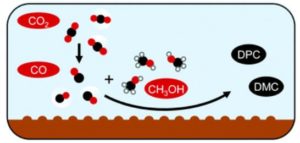 What are the main areas of research in your lab and what motivated you to take this direction?
My main areas of research are electrochemistry and electrocatalysis for energy storage and conversion and synthesis of high-value chemicals. This research is highly motivated by the urgent need for new energetical solutions, either new energy systems or systems based on renewable energy sources. Electrochemistry has the unique possibility of making and breaking bonds by using renewable electrons. This offers the possibility to store energy in chemical bonds, such as in hydrogen and formic acid, to make renewable fuels (such as ethylene and ethanol) or even produce bulk chemicals (such as organic carbonates).
Can you set this article in a wider context?
With this article, we aim to reinforce, within the scientific community and/or chemistry enthusiasts, the idea that fundamental studies are of paramount importance towards the development of new technologies and solutions. It is required to understand the systems at the molecular and nanoscale level in order to optimize it. The investigations reported in this article, do not provide a solution for the synthesis of organic carbonates yet, however, they are a stepping stone for the development of this alternative process.
What do you hope your lab can achieve in the coming year?
Scientifically, I hope that our lab achieves recognition in the field of electrocatalysis for the synthesis of chemicals and gives significant contributions to the scientific community. We are still a young lab, but luckily, we are within the Inorganic Materials and Catalysis group. This group provides not only all the necessary experimental tools but also a broad range of expertise in heterogeneous catalysis, design of catalytic materials and computational modelling that will make our tasks much more comfortable. Moreover, I am surrounded by incredibly motivated researchers (PhD's and postdocs, technicians and colleague staff members) that I am sure will help with this new goal. I sincerely hope that the world wins the fight with COVID and we can go back to our lab and enjoy science together.
Describe your journey to becoming independent researcher.
My journey to becoming an independent researcher was longer than what is assumed to be the norm. After my PhD, I was a postdoc in 3 different Universities in Europe (Finland, Netherlands, and Denmark). My postdocs were all in the field of electrochemistry, but only the last two were focused on electrosynthesis. Before my current position, as an Assistant Professor at TU/e, I worked as a researcher in industry. I consider that period as one of the most important of my scientific career. In addition to all the learning, it also contributed to develop and define my research aims and interests.
What is the best piece of advice you have ever been given?
Do what you feel its right, and everything else will be fine.
Why did you choose to publish in ChemComm?
There are two main reasons that made me choose to publish in ChemComm. Firstly, it was a personal milestone to publish at ChemComm. Secondly, I was aiming to publish this article in a journal of a broad audience and of general chemistry, and ChemComm is one of the most renowned journals with these characteristics.
Short bio: Marta Costa Figueiredo is Assistant Professor of Electrocatalysis at Eindhoven University of Technology since April 2019. She obtained her PhD in electrocatalysis, science and technology in 2012 at the University of Alicante, Spain under the supervision of Prof. Juan Feliu. After that, she was a postdoctoral researcher at different Universities in Europe such as Aalto University (Finland), Leiden University and University of Copenhagen. Before joining TU/e, Marta worked in the industry as Jr Scientist at Avantium (Amsterdam). In Eindhoven, her research is devoted to electrocatalysis and electro(catalytic)synthesis for sustainable processes and production of high value chemicals.

Find Marta on Twitter: @MartaCFigueired
All of our authors' #ChemComm1st articles are now available in ChemComm Milestones – First Independent Articles.