We are proud to announce that Dr. Rafal Klajn, at the Weizmann Institute of Science in Israel, as the recipient of this year's Cram Lehn Pedersen Prize in Supramolecular Chemistry! This prize, sponsored by ChemComm, is named in honour of the winners of the 1987 Nobel Prize in Chemistry and recognises significant original and independent work in supramolecular chemistry. Our warmest congratulations to Rafal, a well-deserved winner!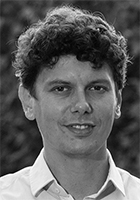 Dr. Rafal Klajn
Rafal is an Associate Professor at the Weizmann Institute of Science and will receive the award during the 2018 International Symposium on Macrocyclic and Supramolecular Chemistry (ISMSC).

This annual conference consists of sessions of invited lectures that focus upon a single topic area, award lectures and poster sessions. This year, the conference will also feature evening sessions on supramolecular chemistry with keynote speakers as well as an exciting series of Nobel Lectures on the final day!
Find out more and register here.