Nanoscale metal rings and dots could find potential use in a wide range of applications including catalysis. However, the impact the morphology differences have must be unambiguously ascertained before they can be used in practical applications. For this to be achieved there needs to be a simple and efficient fabrication process that can create arrays of nanoscale metal rings or dots for study.
Won Bae Kim and team, from the School of Materials Science and Engineering at the Gwangju Institute of Science and Technology, report such a method in their new ChemComm paper. They make use of the powerful transfer printing technique, but importantly have created suitable stamps that can generate ring or dot arrays. These stamps use one dimensional carbon nanostructures that are supported within the hexagonal pores of anodic aluminium oxide, the tip shapes being controlled by ion milling conditions. After loading with a suitable catalytic metal they are then used in transfer printing onto indium tin oxide substrates.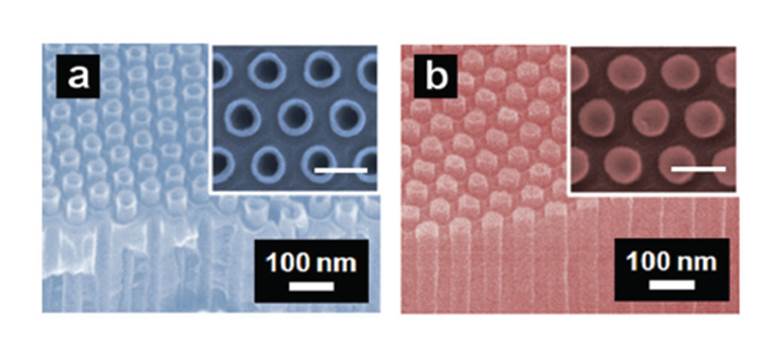 SEM images of nanoring and nanodot stamps showing the supported one dimensional carbon structures within the AAO pores.
The team demonstrate the catalytic ability of the printed metal ring and dot arrays by studying methanol oxidation in acidic solution with platinum structures and carbon monoxide electrooxidation in alkaline solution with gold structures. With this approach they were able to study the effect of morphology on the catalytic activity – to find out which was better, rings or dots, you will have to read the ChemComm article today!
To read the details for free* check out the Chem Comm article in full:
Transfer printing of metal nanoring and nanodot arrays for use in catalytic reactions
Sang Ho Lee, Sung Mook Choi, Seungha Yoon, Huisu Jeong, Gun Young Jung, Beong Ki Cho and Won Bae Kim

DOI: 10.1039/C4CC02939A
*Access is free untill Friday 4th July through a registered RSC account – click here to register