Japanese researchers have experimentally proven that fullerenes reside in the hydrophobic core of liposome membranes.
Liposomes are vesicular structures made up of a phospholipid bilayer. Due to their ability to encapsulate a range of different substances and target numerous cell types, they have great potential as drug delivery agents. Recently, liposomes have been modified with fullerene for a number of uses such as DNA photocleavage, anti-bacterial agents, and photodynamic therapy. Although theoretical simulations have been performed to characterise these fullerene–liposomes, up until now there has been no experimental proof of where the fullerene units end up in the lipid membranes.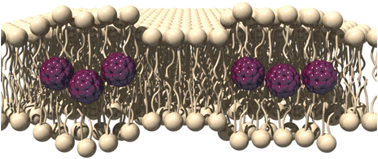 Using differential scanning calorimetry and 13C NMR spectroscopy, Atsushi Ikeda and colleagues have determined that the fullerenes self-aggregate in the core of the bilayer, separating themselves from the alkyl chains. The fullerene units are expected to be located in a similar fashion in a cell membrane, say the team. This new insight means efforts can commence on bringing the fullerenes up to the surface of the lipid which may help improve the photoactivity of the fullerenes whilst reducing any deleterious effects they may have.
Download Ikeda's ChemComm article to find out more…