Scientists based in Italy and Portugal have developed a new carrier system for Magnetic Resonance Imaging (MRI) based on yeast cell wall particles (YCWPs).
YCWPs are well tolerated in vivo because they have a cell wall based on a glucan polymer. However, previous attempts at using it as a carrier of hydrophilic and amphiphilic chemicals have failed due to the porous and hydrophilic nature of the membrane.
In this work the team, led by Enzo Terreno at the University of Turin, realised that they could use the YCWPs as microreactors. Once loaded with an imaging agent the particles were exposed to a sudden change in solvent polarity therefore forming a micro-emulsion inside the particles. Importantly this traps the imaging agent in the particle core.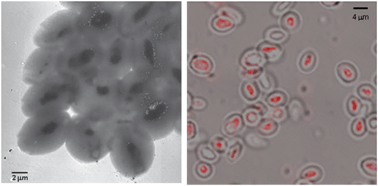 When loaded with gadolinium, the particles were found to have an increased paramagnetic density and also enhanced relaxivity per paramagnetic centre. In all, this should lead to better contrast when used for imaging. In the future Terreno envisages potential applications in cell tracking experiments and particularly for cells found in the immune system.
Want to find out more? Then download the full ChemComm article for free today.