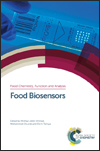 Our new book series, Food Chemistry, Function and Analysis has just launched its first publication, Food Biosensors.
The series will focus on food chemistry, the functions of food in relation to health and analytical methods and approaches used by scientists in the area. All these are critically important in understanding food science and chemistry which will help to answer some of the biggest global challenges we face today which have food at their core. It is aimed at all levels from graduates to academic and industrial researchers in food science and chemistry, as well as others who work at the interface of chemistry, physics and the biology of food.
Series editors, Professor Gary Williamson (University of Leeds, UK), Professor Alejandro G. Marangoni (University of Guelph, Canda) and Professor Juliet A. Gerrard (University of Auckland, New Zealand) will be leading the way. All are experts within this area and more information can be found about them by clicking the links in their names.
The first book to be published under this new series is Food Biosensors. Biosensors are a key topic, as they offer a much quicker, more reliable and more versatile method for the detection of toxins, allergens, hormones, microorganisms, pesticides and other compounds. Covering fabrication of biosensors, the development of miniaturised devices as well as the latest applications in the food industry, the book is written by world renowned scientists and is edited by Professors Minhaz Uddin Ahmed, Mohammed Zourob and Eiichi Tamiya.
This book is a key resource for food biotechnologists, food chemists and biosensor related students and researchers all over the world.
Please keep an eye out for our future publications in 2017 within this exciting new book series.