The publication of Near-infrared Nanomaterials edited by Fan Zhang sees the Nanoscience & Nanotechnology Series reach the great achievement of publishing its fortieth book.
With contributions from leading experts in nanoscale research, the series provides a comprehensive resource of books covering key topics such as the characterisation, performance and properties of nanostructured materials and technologies and their applications. Since the publication of the first book in 2005 on Nanotubes and Nanowires by C N Ram Rao and A Govindaraj, the series has covered subjects such as polymer-based nanostructures, nanodiamond, fullerenes and nanoarcitectonics as well as the applications of nanomaterials in art conservation, food, health and energy.
Series Editor-in-chief, Paul O'Brien CBE FRS, says 'this series is remarkably popular with both readers and contributors with several volumes updated and published as new editions. Much of the success has been 'bottom up' and a result of the hard work by the authors and editors of individual volumes, they all deserve our thanks. If you have an idea for a book in the series please do contact us – we want to have our 50th volume as soon as possible!'
Titles include:
Hierarchical Nanostructures for Energy Devices edited by Seung H Ko and Costas P Grigoropoulos
Nanoceramics in Clinical Use (2nd Edition) by María Vallet-Regi and Daniel Arcos Navarrete
Semiconductor Quantum Dots by Mark Green
Nanocharacterisation (2nd Edition) edited by Angus I Kirkland and Sarah J Haigh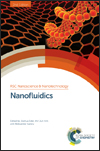 View all 40 titles in the Nanoscience & Nanotechnology Series.
Don't forget you can freely access the table of contents, preface, front matter and first chapter of every eBook in the series via the RSC Publishing website.
If you have an idea for a book in the series or just want to know more then please contact the series Commissioning Editor Leanne Marle.