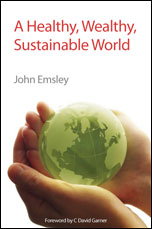 Sporting fever is gripping the nation here in the UK and you may not have realised, but chemistry plays a vital role in sport.
From the outfits the athletes wear and equipment they use to ensuring fairness by detecting unscrupulous competitors that use performance enhancing drugs. Even in sporting arenas, its chemistry that has enabled the fabrication of Astroturf to prevent water logged pitches.
Read more about how chemistry is changing the game in John Emsley's A Healthy Wealthy Sustainable World.
Don't lose out- get your copy today.
Interested in similar titles? Learn more about how chemistry is improving the clothes you wear in The Chemistry of Textile Fibres.