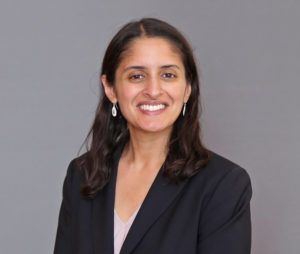 Anita Shukla is an Associate Professor of Engineering at Brown University. Professor Shukla's research involves the development of nano- to macroscale biomaterials for the treatment of bacterial and fungal infections. Professor Shukla is the recipient of several national and University honors and awards for both her research and teaching, including a Presidential Early Career Award for Scientists and Engineers (PECASE), a National Science Foundation (NSF) CAREER award, an Office of Naval Research Director of Research Early Career Grant, and a Brown University Early Career Research Achievement Award and Dean's Award for Excellence in Teaching. Prior to joining Brown in 2013, Professor Shukla was a National Institutes of Health Ruth Kirschstein postdoctoral fellow in the Department of Bioengineering at Rice University. She received her Ph.D. in Chemical Engineering from the Massachusetts Institute of Technology in 2011 as an NSF Graduate Research Fellow. Professor Shukla also received an M.S. in Chemical Engineering Practice from MIT. She received a B.S. at Carnegie Mellon University in 2006 with majors in chemical engineering and biomedical engineering.
Read Anita's Emerging Investigator article, 'Bacteria-Responsive Biopolymer-Coated Nanoparticles for Biofilm Penetration and Eradication' and check out the collection to read all of the 2022 Emerging Investigators articles.
1. How do you feel about Biomaterials Science as a place to publish research on this topic?
Biomaterials Science is a terrific journal covering the latest and greatest in biomaterials research. I feel that our research is reaching the right audiences that will both appreciate, critique, and learn from our work.
2. What aspect of your work are you most excited about at the moment and what do you find most challenging about your research?
Our lab is broadly focused on providing new drug delivery solutions to tackle the global antimicrobial resistance crisis. I am very excited that we are working on an extremely critical research area. The work that we have presented in this article tackles an important issue of treating biofilm infections. We show terrific efficacy of responsive nanoparticles against biofilm bacteria, and going forward as we uncover more about the mechanism of action, we can translate this technology to many other important species of pathogenic bacteria.
3. Can you share one piece of career-related advice or wisdom with other early career scientists?
You can't win the game, if you don't play it. So if you are excited about something, give it a shot!