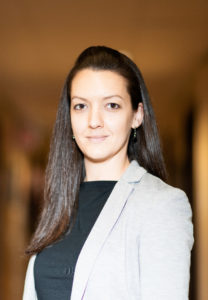 Dr Anna Waterhouse leads the Cardiovascular Medical Devices Group in the Faculty of Medicine and Health at the University of Sydney, Australia. Anna is an affiliated Group Leader at the Heart Research Institute and a member of the Charles Perkins Centre and Sydney Nano. She received her PhD from the University of Sydney and conducted her postdoctoral research at the Wyss Institute for Biologically Inspired Engineering at Harvard University. In 2016, she received a Discovery Early Career Researcher Award from the Australian Research Council and established her multidisciplinary group, focusing on biological interactions at material interfaces combined with cardiovascular medical device engineering, specializing in material thrombosis and bioinspired approaches to improve and design new medical devices and diagnostics. She can be found on Twitter @DrAnnaW_lab.
Read Anna's Emerging Investigator article "Evaluating medical device and material thrombosis under flow: current and emerging technologies" and check out all of the 2021 Biomaterials Science Emerging Investigator articles here.
In your opinion, what are the most important questions to be asked/answered in this field of research?
One of the most important unanswered questions is how we can fully understand material thrombosis and harness advances in biomaterial development to create medical devices that cause minimal thrombosis, so anti-thrombotic drug use and severe bleeding can be reduced clinically.
Can you share one piece of career-related advice or wisdom with other early career scientists?
Find something you're passionate about to work on, so when the going gets tough, you're still doing something you ultimately enjoy.