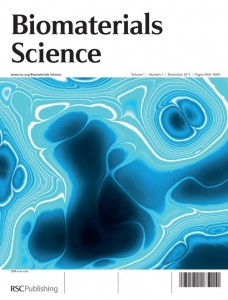 To highlight another area of the scope of Biomaterials Science – Delivery systems – we're making a collection of articles from across RSC journals free for 4 weeks. I hope you enjoy reading them. 
1. Communication: Redox-sensitive polymeric nanoparticles for drug delivery
Hanjoung Cho,  Jungeun Bae,  Vivek K. Garripelli,  Joel M. Anderson,  Ho-Wook Jun and Seongbong Jo, Chem. Commun., 2012,48, 6043-6045
2. Review: Self-assembly of biodegradable polyurethanes for controlled delivery applications
Mingming Ding,  Jiehua Li,  Hong Tan and Qiang Fu, Soft Matter, 2012,8, 5414-5428
3. Critical Review: Functionalized mesoporous silica materials for controlled drug delivery
Piaoping Yang,  Shili Gai and Jun Lin, Chem. Soc. Rev., 2012,41, 3679-3698
4. Tutorial Review: Recombinant protein-based polymers for advanced drug delivery
Jordan L. Frandsen and Hamidreza Ghandehari, Chem. Soc. Rev., 2012,41, 2696-2706
5. Paper: Influence of red blood cells on nanoparticle targeted delivery in microcirculation
Jifu Tan,  Antony Thomas and Yaling Liu, Soft Matter, 2012,8, 1934-1946
6. Communication: Aldehyde responsive supramolecular hydrogels: towards biomarker-specific delivery systems
Francisco Rodríguez-Llansola,  Juan F. Miravet and Beatriu Escuder, Chem. Commun., 2011,47, 4706-4708
7. Feature Article: Dendrimers and miktoarm polymers based multivalent nanocarriers for efficient and targeted drug delivery
Ghareb M. Soliman,  Anjali Sharma,  Dusica Maysinger and Ashok Kakkar, Chem. Commun., 2011,47, 9572-9587
8. Communication: Mesoporous silica functionalized with an AIE luminogen for drug delivery
Dongdong Li,  Jihong Yu and Ruren Xu, Chem. Commun., 2011,47, 11077-11079
9. Paper: Uniform hollow mesoporous silica nanocages for drug delivery in vitro and in vivo for liver cancer therapy
Tingting Wang,  Fang Chai,  Qin Fu,  Lingyu Zhang,  Haiyan Liu,  Lu Li ,  Yi Liao,  Zhongmin Su,  Chungang Wang,  Beiye Duan and Dongxue Ren, J. Mater. Chem., 2011,21, 5299-5306
10. Feature Article: Mesoporous silica nanoparticle based nano drug delivery systems: synthesis, controlled drug release and delivery, pharmacokinetics and biocompatibility
Qianjun He and Jianlin Shi, J. Mater. Chem., 2011,21, 5845-5855
11. Feature Article: Polyamine-salt aggregate assembly of capsules as responsive drug delivery vehicles
Hitesh G. Bagaria and Michael S. Wong, J. Mater. Chem., 2011, 21, 9454-9466
12. Paper: Liposil-supported lipid bilayers as a hybrid platform for drug delivery
Shukun Shen,  Eric Kendall,  Ann Oliver,  Viviane Ngassam,  Daodao Hu and Atul N. Parikh, Soft Matter, 2011,7, 1001-1005
13. Paper: Anticancer drug delivery systems based on noncovalent interactions between carbon nanotubes and linear-dendritic copolymers
Mohsen Adeli,  Farahman Hakimpoor,  Masoumeh Ashiri,  Roya Kabiri and Masoumeh Bavadi, Soft Matter, 2011,7, 4062-4070
14. Review Article: Stimulus responsive nanogels for drug delivery
Liusheng Zha,  Brittany Banik and Frank Alexis, Soft Matter, 2011,7, 5908-5916
15. Minireview: Biocompatibility and drug delivery systems
Daniel S. Kohane and Robert Langer, Chem. Sci., 2010, 1, 441-446
Don't forget you can support Biomaterials Science and not-for-profit publishing by submitting your next high impact article on delivery systems. You can find our online submission system at: http://mc.manuscriptcentral.com/bmsci. Articles will be free to access* until the end of 2014 giving your article the widest possible audience.
To keep up with the latest news from Biomaterials Science you can Like us on Facebook, Follow us on Twitter or sign up for the newsletter.
Sign up for the Biomaterials Science RSS feed or Table of Contents alert to find out about the first articles once they're published online.
*Individuals can access the content by signing up for an RSC Publishing Personal Account. Existing institutional RSC journal subscribers, with registered IP, have automatic access. Other institutions can register for free access.