Introducing one of our recent Emerging Investigator Series authors, Dr Jean-Nicolas Dumez! Read Dr Dumez's recent paper 'online reaction monitoring by single-scan 2D NMR under flow conditions,' and find out more about him in the interview below!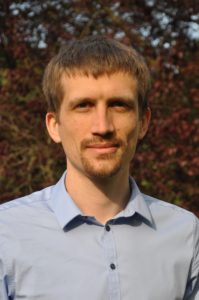 ---
Jean-Nicolas Dumez is a CNRS associate scientist at the University of Nantes, working on the developments of NMR methods for the analysis of solution mixture. He did a Ph.D. in solid-state NMR at the Ecole Normale Supérieure de Lyon in France, followed by two post-doctoral stays, working in magnetic resonance imaging, at the Weizmann Institute of Science in Israel, then in hyperpolarisation, at the University of Southampton in the UK. He joined the CNRS and moved to solution-state NMR in 2014, first in Paris-Saclay, then in Nantes. He works on the development of NMR methods, and currently focuses on the analysis of solution mixtures.
---
Your recent Emerging Investigator Series paper focuses on 2D NMR for online reaction monitoring. How has your research evolved from your first article to this most recent article?
I have worked in nuclear magnetic resonance (NMR) since my master's research project, but I have moved from solids to imaging to liquids. My main interest is in the development and use of spin-dynamics tools and concepts to look at molecules. I have enjoyed moving between topics, and this paper includes ingredients collected along the way in these different areas.
What aspect of your work are you most excited about at the moment?
We are working on fast methods related to the ones described in the Analyst paper, which use diffusion information to separate the spectra of molecules in a mixture. This involves concepts that we borrow from magnetic resonance imaging (MRI), and a nice mix of theory, experiments and simulation. We are also working towards reaction monitoring with these methods.
In your opinion, what is the biggest advantage to using single-scan ultrafast 2D NMR compared to other NMR methods?
The obvious advantage is speed. For out-of-equilibrium systems (chemical reactions, hyperpolarised substrates) that evolves on a minute timescale or less, there is often no other way to collect a full 2D NMR spectrum.
What do you find most challenging about your research?
When developing NMR methods, sometimes finding the right concept is the most challenging aspect and then everything runs smoothly. Sometimes turning this concept into something that works for more than special cases is the real challenge. Both can be interesting, and I find it hard to predict in advance.   
At which upcoming conferences or events may our readers meet you?
I usually participate to magnetic resonance conferences such as EUROMAR and ENC. Hopefully the NMR community will be able meet in Asilomar next year!
How do you spend your spare time?
Most of my time outside the lab is happily spent with my family, and I occasionally still get a chance to read a few pages from a novel or listen to a recent record.
Which profession would you choose if you were not a scientist?
I have never contemplated a profession that was not science related, be it teaching, fundamental research, R & D…
---