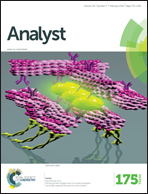 To celebrate the recent Europt[r]ode conference in Graz, Austria, we have put together a collection of papers from Analyst and Analytical Methods dedicated to optical chemical sensors and biosensors research.
These papers will be free to read (with the creation of a free account) until the end of April. We hope you enjoy reading them!
Do you fancy submitting an article to Analyst or Analytical Methods? Why not submit to us today or alternatively email us with your suggestions!
An antibody-free microfluidic paper-based analytical device for the determination of tear fluid lactoferrin by fluorescence sensitization of Tb3+
Kentaro Yamada, Shunsuke Takaki, Nobutoshi Komuro, Koji Suzukia and Daniel Citterio
Analyst, 2014, 139, 1637-1643
DOI: 10.1039/C3AN01926H
Sensing applications based on plasmonic nanopores: The hole story
Andreas B. Dahlin
Analyst, 2015, 140, 4748-4759
DOI: 10.1039/C4AN02258K
An integrated sensing and wireless communications platform for sensing sodium in sweat
G. Matzeu, C. O'Quigley, E. McNamara, C. Zuliani, C. Fay, T. Glennon and D. Diamond
Anal. Methods, 2016, 8, 64-71
DOI: 10.1039/C5AY02254A
Application of PAMAM dendrimers in optical sensing
E. Soršak, J. Volmajer Valh, Š. Korent Urek and A. Lobnik
Analyst, 2015, 140, 976-989
DOI: 10.1039/C4AN00825A
Development of a low cost microfluidic sensor for the direct determination of nitrate using chromotropic acid in natural waters
Deirdre Cogan, Cormac Fay, David Boyle, Conor Osborne, Nigel Kent, John Cleary and Dermot Diamond
Anal. Methods, 2015, 7, 5396-5405
DOI: 10.1039/C5AY01357G
Emerging priority substances in the aquatic environment: a role for passive sampling in supporting WFD monitoring and compliance
Lisa Jones, Jenny Ronan, Brendan McHugh, Evin McGovern and Fiona Regan
Anal. Methods, 2015, 7, 7976-7984
DOI: 10.1039/C5AY01059D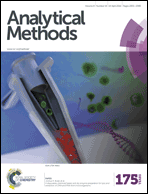 Label-free biosensors based on in situ formed and functionalized microwires in microfluidic devices
Yanlong Xing, Andreas Wyss, Norbert Esser and Petra S. Dittrich
Analyst, 2015, 140, 7896-7901
DOI: 10.1039/C5AN01240F
Plasmon-enhanced optical sensors: a review
Ming Li, Scott K. Cushing and Nianqiang Wu
Analyst, 2015, 140, 386-406
DOI: 10.1039/C4AN01079E
Biosensor-based microRNA detection: techniques, design, performance, and challenges
Blake N. Johnson and Raj Mutharasan
Analyst, 2014, 139, 1576-1588
DOI: 10.1039/C3AN01677C
Magnetic optical sensor particles: a flexible analytical tool for microfluidic devices
Birgit Ungerböck, Siegfried Fellinger, Philipp Sulzer, Tobias Abel and Torsten Mayr
Analyst, 2014, 139, 2551-2559
DOI: 10.1039/C4AN00169A