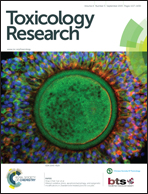 The front cover of issue 5 features artwork by  Shao-Chen Sun from Nanjing Agricultural University. With his colleagues, Shao-Chen explored possible mechanisms for the toxic effects of ZEN on pig oocytes. They cultured porcine oocytes to maturation in media with different ZEN concentrations (5–30 μM), after which they analyzed oocyte oxidative stress status, autophagy, early apoptosis, and epigenetic modifications by immunofluorescence, quantitative real-time PCR analysis and western blot approaches.
Want to know more? Read the full article below – its free to access for the next 6 weeks!
Jun Han, Ting Wang, Le Fu, Liang-Yu Shi, Cheng-Cheng Zhu, Jun Liu, Yu Zhang, Xiang-Shun Cui, Nam-Hyung Kim and Shao-Chen Sun
Toxicol. Res., 2015, 4, 1184-1194
DOI: 10.1039/C5TX00070J
---
Keep up-to-date with the latest content in Toxicology Research by
registering
for our free table of contents alerts.