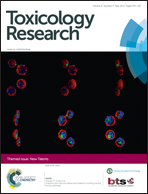 The front cover of issue 3 features artwork by Shareen H. Doak from Swansea University. With her colleagues Shareen asseses the impact of varying QD surface chemistry on cellular uptake and a range of indicators for cell perturbation following exposure.
Interested to know more? Read the full article below – its free to access for the next 6 weeks:
Quantum dot induced cellular perturbations involving varying toxicity pathways
Abdullah Al-Ali, Neenu Singh, Bella Manshian, Tom Wilkinson, John Wills, Gareth J. S. Jenkins and Shareen H. Doak
Toxicol. Res., 2015, 4, 623-633
DOI: 10.1039/C4TX00175C
---
This issue is a part-themed issue on the topic of New Talents. Click here to read the editorial by Professor Nigel Gooderham.
Keep up-to-date with the latest content in Toxicology Research by registering for our free table of contents alerts.