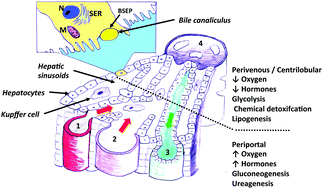 Current in vitro test systems are poor at predicting the toxicity of chemicals/drugs entering the systemic circulation, particularly to the liver. Such systems fall short for several reasons:
(1) Physiological differences between cells currently used and human hepatocytes in their natural state
(2) Lack of physiological integration with other cells/systems within organs, required to amplify the initial toxicological lesion into overt toxicity
(3) An inability to assess how low level cell damage may develop into overt organ toxicity in some people
(4) Failure to consider systemic effects.
This review by Dominic P. Williams and colleagues presents an in-depth look at how combining technology, such as bioartificial livers (BALs), and mathematical models can allow the design of in vitro systems that can mimic the in vivo systems more accurately. This would allow the testing of theoretical hypothesis testing and a reduction of in vivo animal testing.
For the complete, detailed discussion read this review for free by following the link below….
Novel in vitro and mathematical models for the prediction of chemical toxicity
Dominic P. Williams, Rebecca Shipley, Marianne J. Ellis, Steve Webb, John Ward, Iain Gardner and Stuart Creton
DOI: 10.1039/C2TX20031G