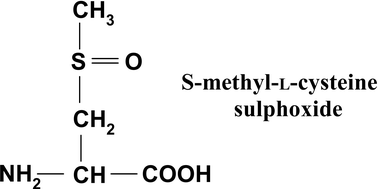 This review, from William M. B. Edmands, Nigel J. Gooderham, Elaine Holmes and Stephen C. Mitchell of Imperial College London, summarises the available information regarding the amino acid derivative S-methyl-L-cysteine sulphoxide (SMCSO), which can be found in many vegetables considered beneficial to human health.
Included in the discussion:
Its occurrence and distribution
Its biosynthesis in plants
Its metabolism in mammals and microorganisms
Its chemoprotective activity; including its chemoprotective activity, anti-diabetic and cardiovascular effects
Mitchell et al. hope that this review will act as a catalyst to stimulate greater scrutiny of this important amino acid derivative, which they say has surprisingly not received as much as it should have considering its abundance and wide distribution.
Read the full review today for free….. HERE
S-Methyl-L-cysteine sulphoxide: the Cinderella phytochemical?
William M. B. Edmands, Nigel J. Gooderham, Elaine Holmes and Stephen C. Mitchell