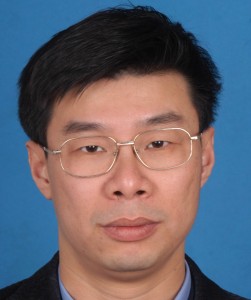 Professor Jianbin Huang is interested in the research of the physical chemistry of surfactants, especially in mixed surfactant systems. The main work in his group is research on the molecular organized assemblies in aqueous solutions, such as vesicle or micelles. He is interested in vesicle formation in mixed cationic and anionic surfactant systems (including the mixed systems of ionic surfactant with oppositely charged polymer) and try to find:
a) the relations among the molecular structures of amphiphiles, properties of molecular organized assemblies and phase behavior of mixed surfactants;
b) the effective methods to adjust the phase behavior and micro-structure transition (i.e.transformation between vesicle to micelle) by the variation of environmental factors (for example, pH, salt and additives).
Some novel surfactants (such as some bola and Gemini amphiphiles) and the mixture of classical surfactant with them also fixed our eyes. The researches on the synthesis, aggregation behavior and interface properties in these kinds of surfactant systems are investigated in aqueous, non-aqueous and mixed solvents. Moreover, the applications of surfactant, especially mixed surfactant in detergent and daily use are also developed. As the first author or correspondence, Professor Huang has published over 40 articles in international and Chinese academic journals in the last five years.
His recent papers include:
A surfactant-assisted unimolecular platform for multicolor emissions
Soft Matter, 2012,8, 10472-10478

Extremely pH-sensitive fluids based on a rationally designed simple amphiphile
Soft Matter, 2012,8, 9079-9085
Self-assembled laminated nanoribbon-directed synthesis of noble metallic nanoparticle-decorated silica nanotubes and their catalytic applications
J. Mater. Chem., 2012,22, 18314-18320
Metal-driven hierarchical self-assembled zigzag nanoarchitectures with electrical conductivity
Chem. Commun., 2013,49, 704-706
Follow the latest journal news on Twitter @softmatter or go to our Facebook page.