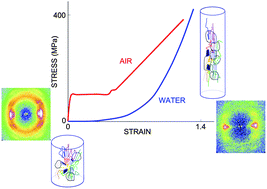 Spider silk has outstanding mechanical properties, and the study of this biomaterial can lead to the development of synthetic high performance fibers. However, there is still limited knowledge of how the structure of silk affects the mechanical properties.
Plaza and co-workers studied the microstructural changes of supercontracted major ampullate silk fibres during deformation, in our first Hot Paper. Two distinct regimes in the microstructural evolution were identified.
Flagelliform (Flag) silk was studied in our second Hot Paper by Lefèvre and Pézolet. Raman spectromicroscopy was used to characterize Flag silk fibers spun by three orb-weaving spiders in their native state. The structural data obtained provides a molecular basis for the tensile properties of these fibers.
 Read both papers for a limited time for free:
Relationship between microstructure and mechanical properties in spider silk fibers: identification of two regimes in the microstructural changes
Gustavo R. Plaza,  José Pérez-Rigueiro,  Christian Riekel,  G. Belén Perea,  Fernando Agulló-Rueda,  Manfred Burghammer,  Gustavo V. Guinea and Manuel Elices
Soft Matter, 2012, 8, 6015-6026, DOI: 10.1039/C2SM25446H
Unexpected β-sheets and molecular orientation in flagelliform spider silk as revealed by Raman spectromicroscopy
Thierry Lefèvre and Michel Pézolet
Soft Matter, 2012, 8, 6350-6357, DOI: 10.1039/C2SM25351H