Congratulations to Sung Hoon Kang, Saverio Spagnolie and Karen Alim for winning the Soft Matter poster prizes at the 2012 Aspen Winter Conference on Growth and Form: Pattern Formation in Biology.
The titles of the winning posters were:
Sung Hoon Kang (Harvard University):
Pattern formation by self-organization of biologically-inspired fibrous surfaces
 
Saverio Spagnolie (Brown University) 
Helices, Waves, and Kinks: Hydrodynamic optimization of prokaryotic and eukaryotic flagella
Karen Alim (Harvard University), 
Contraction driven flow in the extended vein networks of Physarum polycephalum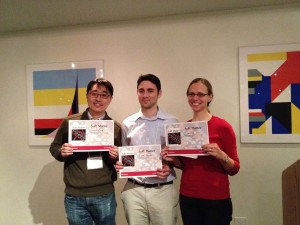 From left to right: Sung Hoon Kang, Saverio Spagnolie, and Karen Alim
The conference was held 2nd – 7th January 2012 at Aspen Center for Physics, Aspen, Colorado, USA.
To keep up-to-date with all the latest research, sign up for the Soft Matter e-Alert or RSS feeds or follow Soft Matter on Twitter or Facebook.