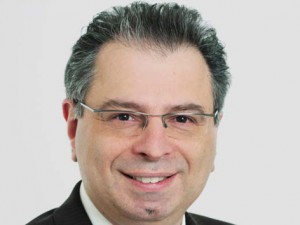 I am delighted to announce that Professor Christos Likos, University of Vienna, has been appointed as an Associate Editor for Soft Matter.
Christos studied Electrical Engineering at the National Technical University of Athens, from which he graduated with a Diploma in 1988. He then joined the Department of Physics at Cornell, where he obtained his Ph.D. degree in 1993, working under the supervision of Neil Ashcroft on density functional theory of freezing and also collaborating with Chris Henley on problems of geometrical packing. He was Alexander von Humboldt Fellow at the University of Munich (1993-94), European Communities Fellow at the University of Trieste (1995-96), and Research Fellow at the Jülich Research Center (1997- 98), before joining the Department of Physics of the Heinrich Heine University of Düsseldorf, in which he obtained his Habilitation in Theoretical Physics in 2001. From 2002 to 2003 he was a Heisenberg Fellow of the German Research Foundation (DFG) at the University of Cambridge, Department of Theoretical Chemistry, before assuming a Professorship at the Department of Physics at the University of Düsseldorf in August 2003. He has held a visiting professorship at the University of Rome la Sapienza in 2005, as well as visiting scholar positions at Princeton and the University of Pennsylvania in 2006 and 2007. From 2007 to 2008, he was Senior Fellow of the Erwin Schrödinger Institute for Mathematical Physics in Vienna. As of June 2010, he is Professor (Multiscale Computational Physics) at the Faculty Physics of the University of Vienna.
Christos' research interests revolve around coarse-graining, structure and dynamics of complex fluids, mainly solutions of colloidal particles and macromolecular aggregates. He is Coordinator of the EU-wide ITN "Physics of Complex Colloids: Equilibrium and Driven" (ITN-COMPLOIDS, http://www.itn-comploids.eu), a joint effort of leading laboratories to analyze the properties of complex fluids in- and out-of-equilibrium.
Christos joins our team of Soft Matter Associate Editors, Darrin Pochan and Lei Jiang. Choose to have your next high impact soft matter paper handled by one of our professional team of Editors in our Cambridge office or one of our Associate Editors by submitting online today!