Congratulations to Hui-Chen Wang, from the University of Bath, who won the Chemical Science poster prize at the RSC Macrocyclic and Supramolecular Chemistry Meeting in Bath on 19th-20th December 2011. Her poster was entitled 'New Boronic Acid Based Fluorescence Sensors'.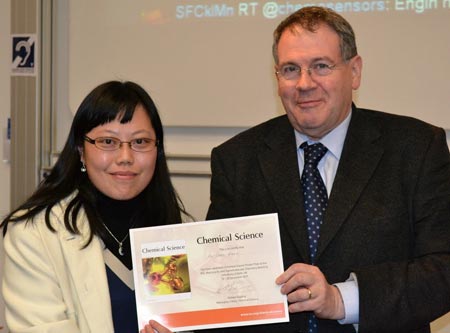 Well done also to Eric A. Appel (University of Cambridge) for his poster on 'Aqueous Supramolecular Materials via Host-Guest Complexation with Cucurbit[8]uril', for which he was awarded the ChemComm poster prize.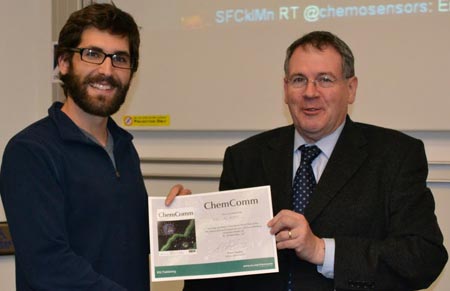 Hui-Chen and Eric receive a one-year personal subscription to Chemical Science and ChemComm respectively. Thank you to Paul Raithby, Professor of Inorganic Chemistry at the University of Bath, for awarding the prize certificates.
Did you know…? Paul Raithby has published more than 100 articles in ChemComm. He told me how his research has evolved into 'making molecular movies' in his ChemComm interview published in issue 1, 2012.