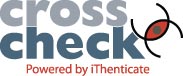 Plagiarism.
It's an ugly word that rings alarm bells for many in the world of scientific publishing, especially the authors. Because no-one wants their research to be copied and republished.
But with the increasing numbers of scientific articles submitted every day, how can we improve our ability to spot plagiarism and deal with it?
That's where CrossCheck comes in.
Created by CrossRef and powered by iThenticate software, it provides publishers with a mechanism for detecting plagiarism in scholarly publications. So we, and many other scholarly publishers, can compare manuscripts against published ones, using the large content repository and the iThenticate software.
You've always been able to trust us to publish your work quickly and efficiently, and make it available to the worldwide community. Now you know you have an additional reason to trust us to protect that work, and maintain the integrity of the scientific record for you and for future generations.
So that's another reason to publish with us. You can hear why others have chosen us as a publisher in this video.
****
About CrossRef
CrossRef  is a not-for-profit membership association of publishers. Since its founding in 2000, CrossRef has provided reference linking services for over 64 million scholarly content items, including journal articles, books and book chapters, conference proceedings, reference entries, technical reports, standards, and data sets. CrossRef also provides additional collaborative services designed to improve trust in the scholarly communications process, including Cited-By linking, CrossCheck plagiarism screening, CrossMark update identification, and the FundRef funder identification service.
About iThenticate
iThenticate is the leading provider of professional plagiarism detection and prevention technology used worldwide by scholarly publishers and research departments to ensure the originality of written work before publication. iThenticate helps editors, authors and researchers prevent misconduct by comparing manuscripts against its database of over 43 billion web pages and 130 million content items, including 38 million works from 530 scholarly publisher participants of CrossCheck, a service offered by CrossRef and powered by iThenticate software. iThenticate is developed by Turnitin, the leader in plagiarism and originality checking for educational institutions worldwide. The company is headquartered in Oakland, California with international offices in Newcastle, United Kingdom.