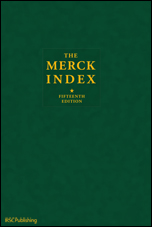 The famous "bible" of chemistry, The Merck Index, is to join the highly acclaimed publishing portfolio of the Royal Society of Chemistry.
The Merck Index has been considered the standard chemistry reference work for generations of professionals and has sold over one million copies worldwide. From April 2013, the Royal Society of Chemistry will take over its publication and launch the 15th edition.
Dr James Milne, RSC Executive Director, publishing, said: "The Merck Index is a quality product with a peerless pedigree but, being familiar to the scientific community worldwide, it is also emblematic of our organisation's rapidly-expanding international presence and influence. We know The Merck Index will be a valuable addition to the products and services the RSC offers its customers. Now we are looking forward eagerly to developing The Merck Index for the digital future."
The RSC already plans significant development of The Merck Index online – beginning with offering all buyers of the 15th edition one year's free access to a newly-developed online version. The RSC will continue to develop The Merck Index to provide a valuable, trusted and relevant resource for scientists and researchers.
To find out more about the 15th edition of The Merck Index visit the website and register your interest to receive further updates.
*The name THE MERCK INDEX is owned by Merck Sharp & Dohme Corp., a subsidiary of Merck & Co., Inc., Whitehouse Station, N.J., U.S.A., and is licensed to The Royal Society of Chemistry for use in the U.S.A. and Canada.