The RSC Twitter Poster Conference is back #RSCPoster!
9:00 (GMT) Tuesday 5 March 2019 to 9:00 (GMT) Wednesday 6 March 2019

The Royal Society of Chemistry Twitter Poster Conference is an online event held entirely over Twitter to bring members of the scientific research community together to share their research, network and engage in scientific debate.
Following on from the success of the previous events, we are excited to announce that the 5th RSC Twitter Poster Conference will be held from Tuesday 5 March 2019 (9am GMT) to Wednesday 6 March 2019 (9 am GMT).
How do I take part?
During the event simply tweet an image of your a digital poster summarising your research, along with the hashtag #RSCPoster, the most appropriate subject area hashtag, and the title of your work.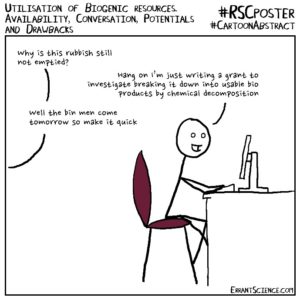 Analytical – #RSCPoster #RSCAnalytical
Catalysis – #RSCPoster #RSCCatal

Chemical Biology – #RSCPoster #RSCChemBio
Chemistry Education – #RSCPoster #RSCEdu
Energy & Sustainability – #RSCPoster #RSCSus
Engineering – #RSCPoster #RSCEng
Environmental – #RSCPoster #RSCEnv
Inorganic – #RSCPoster #RSCInorg
Materials – #RSCPoster #RSCMat
Nanoscience – #RSCPoster #RSCNano
Organic – #RSCPoster #RSCOrg
Physical – #RSCPoster #RSCPhys
For instance, if you are presenting an analytical poster, Tweet "Poster Title" #RSCPoster #RSCAnalytical. Throughout the day you can then answer any questions posed to you by other people on Twitter and ask questions about other posters. Make sure you follow #RSCPoster as the conference progresses.
When is it?
Tweet your posters with #RSCPoster and the most relevant subject hashtag between 9am GMT 5 March  2019 and 9am GMT 6 March 2019. To be considered for a prize, make sure you register at any time before the beginning of the event. Be sure to ask and answer lots of questions to ensure your work is well understood!
More to come very soon…