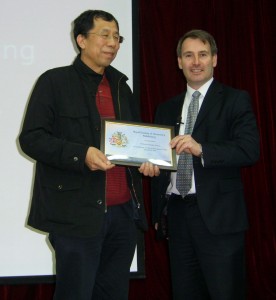 This week Dr James Milne (RSC Publishing) is in China visiting scientific researchers and scientists. During a trip to Changchun Dr Milne presented a certificate of achievement to Professor Hongjie Zhang, at Changchun Institute of Applied Chemistry.
Professor Zhang was recognised for his prolific published research over the last year. The RSC has published 17 of Professor Zhang's papers – making him the most successful RSC author from China during the year.
Read Professor Zhang's excellent work published in RSC journals:
CrystEngComm
Dalton Transactions
Journal of Materials Chemistry
Dr Milne and Dr Daping Zhang (RSC Publishing Editor) continue their tour of China where they will visit seven universities/institutes and four companies in Beijing, Changchun, Shanghai and Xiamen.