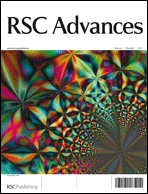 RSC Advances publishes Review articles on a diverse range of topics.  Check out the 10 latest Review articles from RSC Advances – from nanomaterials to fuels, there's something for everyone!
Just login to your personal RSC account to read these articles for free…
Synthesis of graphene-based nanomaterials and their application in energy-related and environmental-related areas, Guixia Zhao, Tao Wen, Changlun Chen and Xiangke Wang, RSC Adv., 2012, DOI: 10.1039/C2RA20990J
Recent developments in the production of liquid fuels via catalytic conversion of microalgae: experiments and simulations, Fan Shi, Ping Wang, Yuhua Duan, Dirk Link and Bryan Morreale, RSC Adv., 2012, DOI: 10.1039/C2RA21594B
Iron-containing nanomaterials: synthesis, properties, and environmental applications, Boris I. Kharisov, H. V. Rasika Dias, Oxana V. Kharissova, Victor Manuel Jiménez-Pérez, Betsabee Olvera Pérez and Blanca Muñoz Flores, RSC Adv., 2012, DOI: 10.1039/C2RA20812A
Catalytic asymmetric synthesis of 3-hydroxyoxindole: a potentially bioactive molecule, Akshay Kumar and Swapandeep Singh Chimni, RSC Adv., 2012, DOI: 10.1039/C2RA21131A
Recent advances in new multicomponent synthesis of structurally diversified 1,4-dihydropyridines, Jie-Ping Wan and Yunyun Liu, RSC Adv., 2012, DOI: 10.1039/C2RA21406G
Progress in redox flow batteries, remaining challenges and their applications in energy storage, Puiki Leung, Xiaohong Li, Carlos Ponce de León, Leonard Berlouis, C. T. John Low and Frank C. Walsh, RSC Adv., 2012, DOI: 10.1039/C2RA21342G
Particulate transepithelial drug carriers: barriers and functional polymers, Krzysztof Babiuch, Michael Gottschaldt, Oliver Werz and Ulrich S. Schubert, RSC Adv., 2012, DOI: 10.1039/C2RA20726E
Some approaches for high performance polymer based membranes for gas separation: block copolymers, carbon molecular sieves and mixed matrix membranes, M.G. Buonomenna, W. Yave and G. Golemme, RSC Adv., 2012, DOI: 10.1039/C2RA20748F
A mini-review on air-stable organometallic Lewis acids: synthesis, characterization, and catalytic application in organic synthesis, Renhua Qiu, Yi Chen, Shuang-Feng Yin, Xinhua Xu and Chak-Tong Au, RSC Adv., 2012, DOI: 10.1039/C2RA21517A
Catalytic conversion of biomass-derived carbohydrates into fuels and chemicals via furanic aldehydes, Lei Hu, Geng Zhao, Weiwei Hao, Xing Tang, Yong Sun, Lu Lin and Shijie Liu, RSC Adv., 2012, DOI: 10.1039/C2RA21811A
Stay up-to-date with the latest content in RSC Advances by registering for our free table of contents alerts.