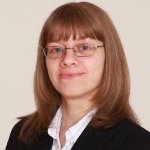 Sara Coles is a guest web-writer for RSC Advances. She currently works for Johnson Matthey in Royston, UK.
---
Interesting research is being done on solid state lighting, organic light emitting diodes (OLEDs), light emitting electrochemical cells (LEECs) and dye sensitised solar cells (DSSCs). Eli Zysman-Colman's group, which recently moved from Université de Sherbrooke in Canada to University of St Andrews in the UK, works on precious metals complexes for light-emitting applications.

The group has a wealth of publications in the field, among the latest are this paper in RSC Advances which correlates the structures of heteroleptic cationic iridium complexes with their electrochemiluminescence behaviour to gain insight into tuning their emission wavelength and intensity. The aim, of course, is to generate efficient complexes that could one day find use in various lighting applications, display screens and devices.
Find out about the Zysman-Colman group's fundamental research in RSC Advances. Free to access for 4 weeks.
Correlating electronic structures to electrochemiluminescence of cationic Ir complexes
Kalen N. Swanick, Sébastien Ladouceur, Eli Zysman-Colman and Zhifeng Ding 
RSC Adv., 2013, 3, 19961–19964, DOI: 10.1039/C3RA43134G