A team from Alabama, USA have reported a highly selective extraction of the uranyl ion from aqueous solution via η2  coordination using hydrophobic amidoxime-functionalized ionic liquids.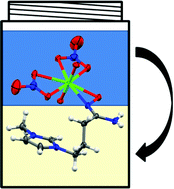 The world's oceans contain approximately one thousand times the terrestrial supply of uranium, but a selective, cheap and insoluble extractant must be developed to overcome the energetic and economic challenge of the low concentrations in seawater and the variety of interfering ions.  In the 1980s, after studying over 200 adsorbents, it was reported that the amidoxime functional group, RC(NH2)(=NOH), appended to polyacrylonitrile was highly selective towards uranium.
Though well-studied, the coordination of amidoxime to the uranyl ion is not well understood. In this paper, Robin Rogers and his team from the University of Alabama have been able to utilize the functionality of ionic liquids to demonstrate the controversial coordination mechanism for extraction of uranium from seawater by amidoxime extractants.  They have demonstrated, through extraction, spectroscopic, and crystallographic studies that hydrophobic, amidoxime-functionalized ionic liquids selectively extract the uranyl ion from aqueous solution via η2 coordination. 
Simply register to download the full article here:
Highly selective extraction of the uranyl ion with hydrophobic amidoxime-functionalized ionic liquids via η2 coordination
Patrick S. Barber ,  Steven P. Kelley and Robin D. Rogers
RSC Adv., 2012, Advance Article
DOI: 10.1039/C2RA21344C