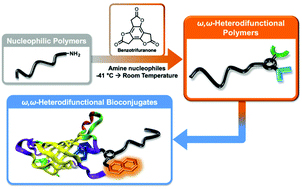 The versatile and high yielding modification of polymer end groups is a critical tool for controlling materials properties. However, when multiple different functionalities are needed, pre-installation of two different functional groups at the polymer end groups is typically a tedious requirement. Sumerlin, Castellano and co-workers managed to circumvent this by developing a mild approach that enables the efficient synthesis of ω-ω-heterodifunctionalized polymers and polymer bioconjugates. Key to this strategy is the use of the recently introduced reagent benzotrifuranone (BTF) which allows the introduction of differentially "clickable" functional groups to monomethyl ether poly(ethylene glycol) amine (mPEG amine). In contrast to conventional polymer heterofunctionalization approaches that require high temperatures, significant excess of reagents and numerous synthetic steps, BTF serves as an ideal functionalization handle that operates at ambient temperature using near-stoichiometric amounts of reagents. Importantly, following functionalization of BTF with alkyne and alkene functional groups a fluorescent (coumarin) dye and biotin could be successfully conjugated to the end of mPEG-amine. These polymer bioconjugates were then able to bind avidin while showing an unexpected disruption of avidin tetramer formation. Overall, the compatibility of BTF with a broad scope of amine nucleophiles and thermally sensitive moieties (e.g. proteins) in combination with the highly efficient and mild nature of this reagent holds great promise for more elaborate heterofunctionalization strategies.
Tips/comments directly from the authors:
The reaction time of the first and second addition to BTF should be monitored (typically by thin layer chromatography) to ensure minimal over/under functionalization occurs.
The trisubstitution products are tolerant to many reaction conditions; however, when performing reactions that include radical intermediates, higher than usual reagent equivalents may be needed due to the radical scavenging nature of the phloroglucinol
When one-pot homodifunctionalizations are performed, be sure to add enough nucleophile to consume both electrophilic sites on the polymer end group and the three electrophilic sites on any unreacted BTF.
Regarding BTF synthesis: 1) Using fresh polyphosphoric acid and monitoring the reaction temperature is very important for the ring-closing in the last step of the synthesis, and 2) BTF and the mono- and difuranone derivatives are sensitive to silica gel, so avoid letting the compounds reside in a column too long during purification.
Read this exciting research for free until 21/06/2017 through a registered RSC account.
Mild and efficient synthesis of ω,ω-heterodifunctionalized polymers and polymer bioconjugates
Polym. Chem., 2017,8, 2457-2461, DOI: 10.1039/C7PY00225D
—————-
About the webwriter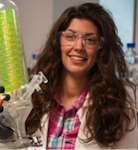 Dr. Athina Anastasaki is a web writer for Polymer Chemistry. She is currently a Global Marie Curie Fellow working alongside Professor Craig Hawker at the University of California, Santa Barbara (UCSB). Please visit this website for more