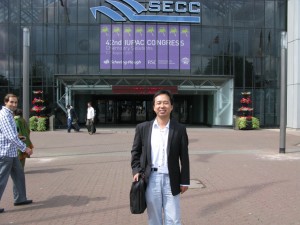 Prof. Jianzhong Du is currently leading a polymer chemistry research group at Tongji University, Shanghai, China. He received his PhD from the Institute of Chemistry, Chinese Academy of Sciences in 2004, and then moved to the University of Sheffield as a postdoctoral fellow with Steve Armes. He held an Alexander von Humboldt research fellow position in Germany in 2006 before moving to Cambridge University in 2008 where he worked as a research associate with Rachel O'Reilly. He was appointed as an 'Eastern Scholar' professorship in 2009 and set up his own research group at Tongji University in 2010. His research interests include the synthesis, self-assembly and applications of smart and functional polymers, with a particular interest in polymer vesicles (polymersomes). Currently, he is focusing on the synthesis of designer polymeric materials for water remediation, biocatalysis, biomacromolecules delivery, and antibacterial delivery vehicles ("armed carriers").
Research website: http://web.tongji.edu.cn/~jzdu/English/index.html
What was your inspiration in becoming a chemist?
In my eyes my mother is a natural "chemist". As a young child my first inspiration to become a chemist was my mother's fantastic home-made food—Tofu and sweet malt. I enjoyed helping her harvest soya beans in the field and seeing how she made delicious Tofu for us at home. It was really exciting to witness how the yellow soya beans turned into white Tofu after drying, smashing (by me!), dispersion in boiling water, filtration (to form soya bean milk), flocculation by calcined gypsum (actually I didn't know it was CaSO4 until I learned basic chemistry in middle school), and further filtration to remove excess water (sometimes I stood on the board on top of the Tofu to accelerate this process!). The procedure for making sweet malt at home is much more complicated than Tofu but I mastered it before the age of ten. Those traditional Chinese food technologies have thousands of years of history but are full of principles from modern chemistry. My mother carried out those complicated "chemical reactions" based on experience (no measuring tools needed). It was a task full of fun and curiosity for a young boy to participate in. At that time I didn't know any chemical principles but could see the excellent "results" achieved by my mother. After learning chemistry, I gradually understood why gypsum should be calcined before adding it to the soya bean milk, how Ca2+ interacts with protein to form Tofu, and the magic power of green malt in making sweets starting from rice. I think it is the everyday chemistry in my childhood that inspired me to become a chemist.
What was the motivation to write your Polymer Chemistry article? ( DOI: c4py00501e)
Our group has an active program in the synthesis and self-assembly of homopolymers. Compared with well-investigated block copolymers, homopolymers have been considered as a non-ideal building block for self-assembly due to their fuzzy boundary between hydrophobic and hydrophilic moieties. However, we think this unique fuzzy boundary may provide some new opportunities in both self-assembly mechanisms and preparation of functional nanomaterials. Furthermore, it is a challenge to self-assemble hydrophilic homopolymers in pure water into nanostructures. Therefore, we incorporated one terminal alkynyl group into hydrophilic homopolymers to drive their unusual self-assembly in aqueous solution to form a range of nanostructures such as multicompartment vesicles, spherical compound micelles and flower-like complex particles.
Why did you choose Polymer Chemistry to publish your work?

Polymer Chemistry is an excellent forum for scientists working in a wide range of sectors, especially for polymer chemists. More and more people are reading this journal. The editorial and publishing teams are well-organised and the dissemination time is short.
In which upcoming conferences may our readers meet you?
National Congress of Chinese Chemical Society 2014 in Beijing and Macro 2014 in Thailand
How do you spend your spare time?
I have an eight year old son who is learning piano and badminton. So in my spare time, I am his piano and badminton training partner. My hobbies include Chinese traditional literature, jogging and cooking.
Which profession would you choose if you were not a scientist?
If not a chemist I would be a writer or a network engineer.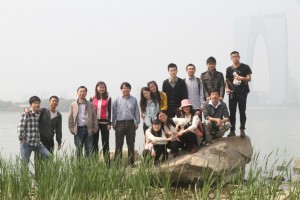 ---
Read Jianzhong Du's latest paper:
How does a tiny terminal alkynyl end group drive fully hydrophilic homopolymers to self-assemble into multicompartment vesicles and flower-like complex particles?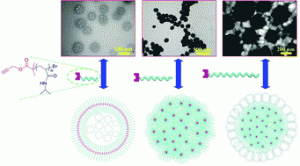 ---
Cyrille Boyer is a guest web-writer for Polymer Chemistry. He is currently an associate professor and an ARC-Future Fellow in the School of Chemical Engineering, University of New South Wales (Australia) and deputy director of the Australian Centre for NanoMedicine.