Albumin-based drug delivery has been demonstrated to be useful for achieving improved cancer therapy, largely due to its passive target toward tumor via the enhanced permeability and retention effect and the increased demand for albumin by tumor cells as source of energy and amino acids. However, albumin lacks not only the active mechanism to overcome the cell membrane barrier, but also the ability to penetrate into tumor tissues. Herein, a cell-penetrating albumin-based delivery strategy was developed, in which a cell-penetrating peptide was chemically conjugated to albumin in order to enhance the efficiency of intracellular delivery and tumor penetration. Doxorubicin (DOX) molecules were loaded into the carrier via cleavable disulfide bonds, which are responsive to the highly reducing environment in the cytosol of tumor cells, thus archiving prodrug-type targeted drug release. The cell-penetrating albumin–DOX conjugates displayed significantly higher antitumor activity than DOX. More interestingly, the conjugates also efficiently killed the drug-resistant tumor cells, in sharp contrast to the ineffective DOX. The studies with human xenograft tumors in nude mice further demonstrated the enhanced antitumor efficacy and reduced side effects of the cell-penetrating albumin-assisted DOX delivery strategy, indicating the promise of this delivery system.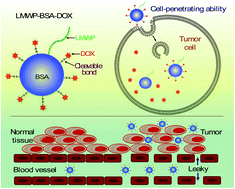 Cell-penetrating albumin conjugates for enhanced doxorubicin delivery by Qianqian Guo, Huiyuan Wang, Yongxing Zhao, Huixin Wang,Feng Zeng, Haiying Hua, Qin Xu and  Yongzhuo Huang Polym. Chem., 2013,4, 4584-4587
To keep up-to-date with all the latest research, sign-up to our RSS feed or Table of contents alert.