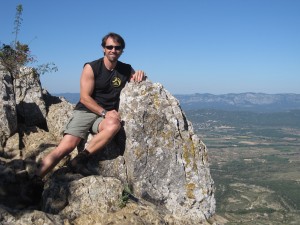 Sylvain Caillol was born in 1974. He first graduated from the engineering school of Chemistry of Montpellier in 1998. Then he received his PhD degree in Polymer Science in 2001 from the University of Bordeaux. Subsequently he joined the Rhodia Group and headed the Polymer Department in the Research Center of Rhodia. In 2007 he joined CNRS in the University of Montpellier where he started a new research topic dedicated to the synthesis of biobased building blocks and polymers. He is the co-founder and Director of ChemSuD Chair. Co-author of several articles and patents, he won the Innovative Techniques for Environment award. 
What was your inspiration in becoming a chemist?
Chemistry is a central science, connected to all other sciences. Moreover chemistry is everywhere in the world around us – in what we eat, what we use, all the materials. Chemistry is the language of nature. I had the curiosity to try to understand this language.
What was the motivation to write your Polymer Chemistry article? (DOI:10.1039/C3PY00343D)
In our team we a started few years ago a new topic dedicated to the synthesis of new biobased and less harmful building blocks for polymers. In this context we focused on the synthesis and reactivity of cyclic carbonates.
Indeed cyclic carbonate groups are currently gaining increasing attention both from academic and industrial communities since they are an interesting route to synthesize Non Isocyanate Polyurethanes (NIPUs). But they are also interestingly used as crosslinking agents. We published several papers in Polymer Chemistry concerning our works on cyclic carbonates and NIPUs and finally we proposed this review article.
Why did you choose Polymer Chemistry to publish your work?
I consider Polymer Chemistry as a leading journal in the field of polymers, with a broad audience. Impact factor is excellent, reviewers' comments are very constructive and publication is very fast.
In which upcoming conferences may our readers meet you?
I will attend the 10th International Conference on Advanced Polymers via Macromolecular Engineering in Durham, UK this summer (August 18 – 22) and also the 11th Euro Fed Lipid Congress in Turkey (Oct 27-30).
How do you spend your spare time?
I spend my spare time doing sports such as weight training or walking. I like traveling and scuba diving.
Which profession would you choose if you were not a scientist?
Maybe oceanographer…?