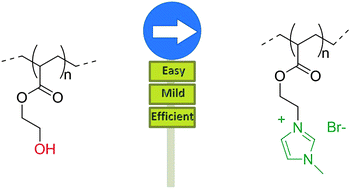 Ionic liquids (ILs) have been of widespread use in the world of chemical synthesis for two decades as substitutes for classical solvents, but it is only recently that IL polymers have raised interest in the field of materials sciences. In this context, their unique properties have been taken advantage of in various applications dealing with electric charge transportation. However, the direct controlled polymerization of IL monomers is not straightforward. In this communication, Monnereau and co-workers reported a simple two-step methodology to prepare IL-containing polymers. Their approach relies on a key hydroxy-to-bromine substitution on poly(hydroxyethyl acrylate), followed by the addition of a nucleophile on the resulting polymer. This constitutes an unprecedented simple and quite versatile approach towards the synthesis of a variety of monodisperse ionic liquid containing polymers by atom-transfer radical polymerization (ATRP).
Vinu Krishnan Appukuttan, Anais Dupont, Sandrine Denis-Quanquin, Chantal Andraud and Cyrille Monnereau
Polym. Chem. 2012, 3, 2723-2726.
To keep up-to-date with all the latest research, sign up for the journal's e-alerts or RSS feeds or follow Polymer Chemistry on Twitter or Facebook.