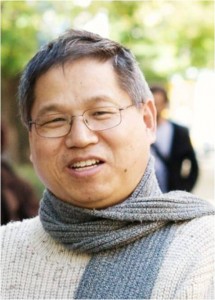 Professor Greg Qiao received his B.Eng. in Polymer Engineering at East China University in 1982 and his Ph.D. at the University of Queensland in 1996 on synthetic organic chemistry.  He then worked as a Postdoctoral Fellow at the University of Melbourne, when he entered the field of synthetic polymer chemistry and engineering. He became a Lecturer in the Department of Chemical and Bimolecular Engineering in 2002, then promoted to a Senior Lecturer in 2004, Associate Professor and Reader in 2007 and a full professor in 2009.  Since 2012, he has been an ARC's professorial Future Fellow. He has also been appointed as the Assistant Dean (Research) in the Melbourne School of Engineering since 2009.
Professor Qiao was elected as a Fellow of Royal Australia Chemical Institute (FRACI) in 2006. He was awarded a Freehills Award by IchemE in Australia, Royal Australia of Chemical Institute (RACI) and Engineering Australia for excellence in the field of chemical engineering in 2010 and RACI's Polymer Division Citation for service to Polymer Division and distinguished research achievements in the field of synthetic polymer chemistry in 2012.
Professor Qiao currently leads a Polymer Research Group of ~ 20 people and his research interests has been in the synthesis of novel macromolecular architectures by controlled polymerizations, polymeric membranes for gas separations, functional polymers for specific applications in mineral, paint, packaging, water and special composite industry, and biomacromolecular scaffolds for soft tissue engineering. He has published more than 100 journal papers and is the inventor for more than 20 patents. He is also on the advisory board of Melbourne Neuroscience Institute, and two international journals, "Macromolecular Bioscience" and "Macromolecular Materials & Engineering".
Group weblink: http://www.chemeng.unimelb.edu.au/polymerscience/index.html
What was your inspiration in becoming a chemist?
When I was a child, I always dreamed of one day becoming a scientist. When I was at school, my initial choice of study was electrical engineering. However, as I was doing very well in chemistry, I ended up majoring in chemistry and chemical engineering during my university years. I subsequently completed a Ph.D in organic chemistry before returning to chemical engineering to focus on synthetic polymer chemistry and engineering. I really love polymer chemistry, as I think it is a scientific tool that can change society and improve quality of life.
What was the motivation to write your Polymer Chemistry article? (entitled 'Factors Influencing the Growth and Topography of Nanoscale Films Fabricated by ROMP-Mediated Continuous Assembly of Polymers', DOI: 10.1039/C2PY20692G )
In collaboration with Frank Caruso and several early career researchers, we have recently developed a new ultra-thin film fabrication technology termed Continuous Assembly of Polymers (CAP). The key concept of this process involves a single-step growth of a cross-linked film from a substrate functionalised with initiating sites via controlled polymerization methodologies; such as, ring-opening metathesis polymerization (ROMP) (Small, 2011, p2863), atom transfer radical polymerization (ATRP) (Chem. Comm., 2011, p12601) or photo-triggered iniferter polymerization (ACS Macro Lett., 2012, p1020). The CAP process is surface confined, allows precise control of the film thicknesses and can be applied to planner substrates or particle surfaces; the latter allowing the formation of hollow capsules following the removal of particle templates.
If we consider the polymerisation of a monomer from an initiator functionalised surface (grafting-from), we can imagine an idealised structure of unidirectional polymer chains perpendicular to the surface, like a 'toothbrush'. In comparison, the CAP process employs macrocross-linkers (polymers with multiple pendent monomer groups) rather than monomers and as a result generates a cross-linked 3D polymeric network consisting of polymer chains both perpendicular and horizontal to the surface simultaneously, like 'steel wool'. Since the perpendicular and horizontal chains are derived from the pendent monomer groups and macrocross-linker backbone, respectively, it is possible to prepare films with different compositional layers via the sequential addition of different macrocross-linkers, in a similar fashion that block copolymer grafts can be prepared by the stepwise addition of different monomers.
One of the distinguishing advantages of the CAP process is that it provides access to films derived from natural polymers, which is difficult to achieve using conventional methods. As long as an existing polymer, either synthetic or naturally occurring, can be functionalized with a monomer to generate a macrocross-linker, the CAP process can be performed to convert these polymers into cross-linked 3D films. This development has wide implications, as the films formed can be readily engineered using a diverse range of polymers (synthetic and biological) and controlled polymerisation methodologies, making it of relevance to physical and life science applications.
Why did you choose Polymer Chemistry to publish your work?
Our manuscript published in Polymer Chemistry is the 1st full paper on the CAP process using ROMP. Polymer Chemistry is a very successful and exciting new journal, which provides a forum for publishing high quality synthetic polymer science and boasts a very quick review process. It also reaches a broad readership from various disciplines.
In which upcoming conferences may our readers meet you?
I have attended the last 10 Australasia Polymer Symposiums (APS) and will be attending the upcoming APS with no exception. The next APS will be the 34th and will be held in beautiful Darwin in the Northern Territory of Australia from July 7-10, 2013 (http://www.34aps.org.au).
How do you spend your spare times?
I enjoy reading a good article with a completely fresh mind.
Which profession would you choose if you were not a scientist?
Politician or public servant.