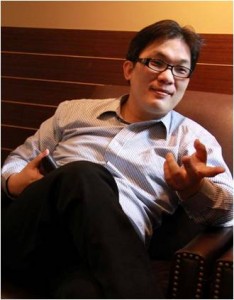 Shiao-Wei Kuo received his BSc degree in Chemical Engineering from National Chung-Hsing University in 1998 and Ph.D degree in Applied Chemistry from National Chiao-Tung University in Taiwan in 2002 where he worked with Prof. Feng-Chih Chang. He continued his research work at Chiao-Tung University as a postdoctoral researcher during 2002-2007. From September 2005 to April 2006, he was also a postdoctoral researcher with Prof. Stephen Z. D. Cheng at the University of Akron in USA. He joined Department of Materials and Optoelectronic Science, National Sun Yat-Sen University in Taiwan as an assistant professor in 2007 and was promoted to associate professor in 2010. He has published ca. 160 research papers, 3 review articles and 3 book chapters. His research interests include polymer interactions, supramolecular chemistry, self-assembly nanostructures, mesoporous materials, POSS nanocomposites, polymer bioconjugates, and low surface free energy materials.
For more information see here: http://www.mse.nsysu.edu.tw/people/bio.php?PID=23
What was your inspiration in becoming a chemist?
When I was a high school student, I was interested in mathematics. Chemistry is difficult to attract me since we only learn the chemistry knowledge from the textbook and lack the hands-on chemical experiment at that moment. However, I had the highest score in chemistry for my university entrance exam held in Taiwan that year and I was assigned to department of chemical engineering in Chung-Hsing University. During that period, I discovered that polymer research is fascinating work and the hands-on experience in a laboratory setting provided me with numerous opportunities to corroborate what I had learned from textbook and then extend that knowledge to an independent search for innovative solutions. At Chiao-Tung University, the excellent research environment and abundant academic resources also enhanced my research capabilities and equipped me with the competence to fully realize my research aspirations in polymer chemistry, including the synthetic methods such as anionic polymerization, controlled radical living polymerization, and ring-opening polymerization.
What was the motivation behind the research in your recent Polymer Chemistry paper?(DOI:10.1039/C2PY20197F)
My Ph.D. thesis was focused on the hydrogen bonding interaction in polymer blend systems. At the end of postdoctoral research, my research interest was changed to self-assembly supramolecular structure of diblock copolymer mixture such as poly(styrene-b-vinyl phenol) diblock copolymer blending with poly(4-vinyl pyridine) or poly(methyl methacrylate) through hydrogen bonding interaction. In general, these interactions have been formed through single-site hydrogen bonding (e.g., hydroxyl, carboxyl, pyridyl, or ether groups), but they are relatively weaker than the complementary multiple hydrogen bonding interactions formed in DNA-like complexes. As a result, we wished to mimic DNA-like interactions to synthesize heteronucleobase (thymine)-containing diblock copolymers by using a combination of nitroxide-mediated radical polymerization and click chemistry, which we then blended with the adenine-based molecules to form self-assembly supramolecular structures, through strong complementary multiple hydrogen bonds, with different length scales.
Why did you choose Polymer Chemistry to publish your work?
From the website, the scope of Polymer Chemistry including novel properties and characterization of polymers, synthesis and application of polymer bioconjugates, supramolecular polymer chemistry, and polymer nanocomposites is very close to my recent research interest. It is natural for me to publish our research papers in this journal and we also publish several papers in this journal in this year due to broad readership and fast review process and publication. Most importantly, Polymer Chemistry is an excellent journal with high quality and impact manuscript in polymer science.
In which upcoming conferences may our readers meet you?
I will attend the Symposium about liquid crystal and supramolecular self-assembly structure in Xiangtan City in China during August 26-29, and the 2nd Symposium on Innovative Polymers for Controlled Delivery in Suzhou, in China during September 11-14.
How do you spend your spare times?
I have two small children and I spend almost my free time to take care of my daughter and son. I like travelling with my family and watching sport games on TV, especially in baseball and basketball when I have free time.
Which profession would you choose if you were not a scientist?
For hundreds of years and countless generations, people in my family have been farmers or fishermen in my hometown. My father and my brother both are still fishermen now and maybe I will enjoy this job to get along with the sea. However, I like to teach and to do research now and I think that it is the best choice for me at this moment.