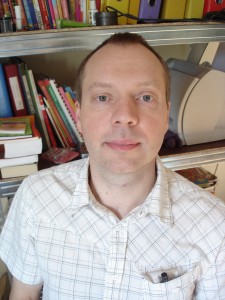 Christophe Schatz is Assistant Professor at the 'Institut Polytechnique de Bordeaux' in the 'Laboratoire de Chimie des Polymères Organiques (LCPO)' led by Prof. H. Cramail (see author of the week, 23 March 2012). He received his PhD degree from the University of Lyon in 2003 for his work on polysaccharide colloids under the supervision of Prof. A. Domard and Pr. T. Delair. In 2004–2005, he was a postdoctoral fellow in the group of Dr. E. J. Wanless (University of Newcastle, Australia) working on polyelectrolyte micelles for functional interfaces. He is currently working in the group of Prof. S. Lecommandoux and his research focuses on colloidal assemblies from polysaccharides, polyelectrolytes and block copolymers for therapeutic applications.
Details of his research activities can be found at: http://www.lcpo.fr/
What was your inspiration in becoming a chemist?
The idea of working in a laboratory of chemistry to manipulate and study molecules has been a great motivation for a long time. Later, I realized how interactions can be used to direct molecular assembly and built materials.
What was the motivation behind the research in your recent Polymer Chemistry paper? (DOI:10.1039/C2PY20089A)  
The project is the result of a collaboration between the 'Institut de Chimie de la Matière Condensée de Bordeaux (ICMCB)' where researchers are able to design magnetic nanoparticles (NPs) having a Curie temperature adjusted at 43°C for biomedical applications and the 'Laboratoire de Chimie des Polymères Organiques (LCPO)' which has a long experience in the synthesis and properties of block copolymers. The motivation was to engineer the surface of magnetic NPs with copolymers so that an anticancer agent can be encapsulated and released at will by applying an ac magnetic field. This may be beneficial for reducing side effects of chemotherapy. We chose to modify the particle surface though a non-covalent approach, namely by co-adsorbing block copolymers, because many properties of polymer brushes, like the transition temperature or the drug encapsulation capacity, can be easily modified through the composition of adsorbed copolymer chains. In view of designing a functional polymer platform at particle surface, such an approach offers almost unlimited possibilities.
Why did you choose Polymer Chemistry to publish your work?
It looks like that Polymer Chemistry will become a major journal with a broad audience in polymer science.
In which upcoming conferences may our readers meet you?
I will attend the 9th International Symposium on Polyelectrolytes – ISP 2012 (Lausanne, July 9-12) and then the Colloids and Nanomedicine conference in Amsterdam, July 15-17.
How do you spend your spare times?
Music, cooking and diving (since my post-doc in Australia). Reading newspapers with a cup of coffee takes me some time too!
Which profession would you choose if you were not a scientist?
Musician or maybe explorer in another life…