Researchers from Clarkson University have synthesised an α-keto ester methacryloylethyl phenylglyoxylate (MEPG), and its homopolymer, and tested their photoinitiation capabilities in a crosslinking monomer resin system.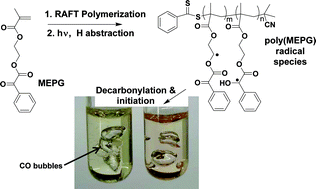 This resin system contained bis-phenol A-glycidyl methacrylate (BisGMA) and triethylene glycol dimethacrylate (TEGDMA). The CO evolution from the photoinduced decarbonylation led to a significant reduction in the volume shrinkage of the resin upon photocuring with UV light. The addition of an inorganic filler (SiO2) to the resin did not affect the CO generation and further reduced the volume shrinkage.
Interested to know more? Why not read the full article for free: K. Omrane, J.-J. Feng, R. E. Partch and D. A. Shipp, Polym. Chem., 2011, 2, 1307–1311.